If a camera lens is a sword, the filter is the scabbard. Experienced and professional photographers use a filter on their lens for two main reasons, to safeguard the lens from dust and moisture and to enhance the photo quality. There are many types and options available based on budget and quality. In this list, you'll find the best camera lens filters you can buy this year.
Camera Lenses For Beginners: Buying Guide
A List of the Best Filters for Camera Lenses in 2018
1. Ultra-Violet (UV) reducing filters: Tiffen 52mm SKY 1-A Filter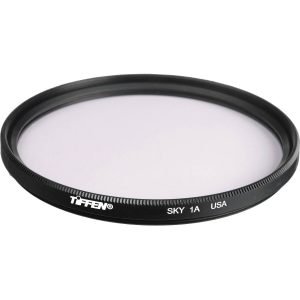 If you're looking for an additional protection for your optics with enhanced filtering of unwanted light spectrum, I highly recommend that you take a look into this Tiffen 52mm SKY 1-A Filter. It's the bang for the buck. Proudly made in the U.S.A.
Features
Reduces Bluish Cast of Daylight
Provides Greater Color Accuracy
2. UV haze filter: Chiaro 67mm 98-UVAT UV Filter


This is the second best protective UV filter to consider if you're looking for higher quality. In this case, if you're a photographer who demands the highest-quality glass, just buy this right away.
Features
99% Light Transmission
Clear UV Protective Filter
Polished Schott Glass
3. Polarizing filter: Kaesemann Polarizer MRC-Nano Filter


The Kaesemann filter is more expensive than the basic filters above. However, with this filter you feel like a big upgrade. The Polarizing filters are ideal for making clouds seemingly pop out from darkened blue skies. This circular Polarizing filters are mainly for use with auto-focus lenses. The linear ones are best used with manual-focus lenses.
4. Circular Polarizing Filter for Camera Lenses by Breakthrough Photography

This is the kind of of filter that's as great as much more expensive filters. What I really like about this Breakthrough Photography Circular Polarizing Filter is its sharpness and neutral color.
Compatible with all 77mm camera lenses
Good to Know
The major difference between a cheap filter and an expensive one has a lot to do with the quality of the glass.
When it comes to have one of the must-have accessories for most photographers, the camera lens filter is typically on the list. Usually, a camera lens that operates with or without the filter has a significant difference. I believe my list above will help you choose the right lens filters for your photography demand. With the best filter, you no longer worry about water, oil, dust, and fingerprints.
With this list of the best DSLR camera lens filters, you'll be able to perfect your photography in a way that you dream of.
Related Lists: