If you've got a digital camera or camcorder, you'll certainly need the best memory cards for the photo and video files you capture. What to look for when you want to add the best memory cards to your collection for your digital camera. In this review, you'll get to know some selected memory cards, the best of their class. A few things you will be surprised when you decide to buy new memory cards, Secure Digital (SD) or CompactFlash (CF) memory cards. We'll examine a few factors, including features, performance, and reliability. These 3 main things are very important for the modern memory cards. Because these are all you need to have with your digital camera of all time.
Best Camera Memory Cards in 2018 You Can Buy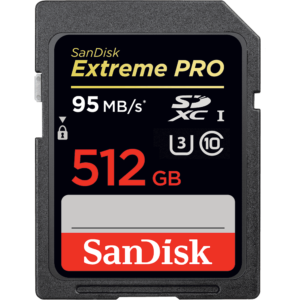 SD Cards: SanDisk Extreme PRO SDHC and SDXC UHS-II cards
A lot of modern cameras, including digital single-lens reflex (DSLR), come with one or more slots for SD memory cards. Professional cameras and high-resolution camcorders need speed, performance, capacity and reliability. Professional photographers and videographers prefer SanDisk memory cards.


In 2017, you can get a 300MB/s SD card for your camera. We highly recommend you buy SanDisk Extreme PRO SDHC and SDXC UHS-II cards, which support Full HD and cinema-quality 4K video recording. It's ideal for photographers and videographers recording extreme sports and other fast-action activities without dropping frames.
This SanDisk card also comes with a RescuePRO Deluxe data recovery software download offer. You can choose the available capacity starting from 32 GB to 128 GB. SanDisk memory cards are typically compatible with cameras, laptops, tablets, and other devices.
SanDisk Extreme PRO CompactFlash Memory Card
Want faster shooting and cinema-quality video? The SanDisk Extreme PRO CompactFlash Memory Card, speeds of up to 160MB/s, is designed for that need. It allows you to capture smooth 4K video as well as Full HD.


SanDisk Extreme PRO microSDXC UHS-II Card
In 2017, this is the world's fastest microSD card you can buy. With transfer speed up to 275MB/s, you'll be very much delighted to access your recorded videos. This also means that you can play your video with stunning quality on 4K UHD TV screens and monitors.
SanDisk has made its reputation among photographers for many years. In 2016, Western Digital Corporation acquired SanDisk Corporation. This news will only make the product line of memory cards from SanDisk and Western Digital even better.

In Conclusion
Having one memory card is never enough. You'd at least need a few additional memory cards as a backup or to avoid a situation which you cannot continue your photography session. Getting more storage or capacity than you need is also a key factor to choose the right memory cards.
SanDisk is a leading digital memory and storage and preferred by most professional photographers. In this review, you'll get to know the best memory cards for your new or existing digital camera. Let's continue reading to find out more the best memory cards, SD Cards, CompactFlash, and microSD before you consider buying to gear up your photography and studio. These memory cards are the best of its class. They're also good gifts for aspiring and photographers during important occasions like birthday and new year.
More reviews: