When buying a memory card for your camera, most photographers will have to consider a few factors. You will need to look at the speed, capacity, card types (SD card, CompactFlash card, or microSD card) and the purpose of the card (type of video or photography). Having one memory card is never enough, especially for travel photographers. You'd at least need a few additional memory cards as a backup or to avoid a situation which you cannot continue your photography session to capture the best moments. Getting more storage or capacity than you need is also a key factor to choose the right memory cards. For professional DSLR cameras, you'll certainly need a high speed Secure Digital (SD) or CompactFlash (CF), and XQD G Series memory cards with more than enough storage capacity. I'll examine a few factors, including features, performance, and reliability. These 3 main things are very important for the modern digital memory cards. Because these are all you need to have with your digital camera of all time.
Also: The Best Bags (Case) Memory Cards
The Best Camera Memory Cards in 2018
The Best SD Memory Cards
There are several SD Memory Cards for DSLR cameras. These SD cards vary in size and speed. They come in several classes according to their speeds. The classes include, class 2, 4, 6 and 10 with class ten being the best. For your DSLR camera, you will need not just a class 10 SD card but a class 10 SD card with ultra high speed (UHS). For 4k video shooting, a U3 SD card will be required, a U3 SD card, writes at 30mbps. For a more optimal experience, both a UHS and U3 SD card will be better choices. SanDisk memory cards are typically compatible with most DSLR cameras, computer laptops, and tablets.
1. SanDisk Extreme PRO SDHC and SDXC UHS-II cards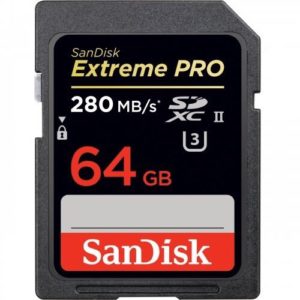 SanDisk Extreme pro 95mb/s UHS-I/U3 SDXC is the top choice here for its performance and price. This SD memory card records both 4k and RAW videos. The card can also, has a read speed of 95mb/s which is an incredible speed. This card in fact offers all the needed services for a DSLR camera. The card has a write speed of 30mb/s (U3). While purchasing a card, make sure you consider this card. Checking on Samsung, there's the 64gb 100mb/s U3 Micro SDXC Evo select. This card sells comes in service to all DSLR users, recording 4k videos at 30mb/s and reading at 100mbs per second, the card seems to cater for all DSLR camera needs.
2. SanDisk Ultra Class 10 SHDC UHS-I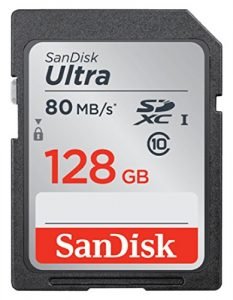 The 128GB SanDisk ultra class 10 SHDC UHS-I is another incredibly helpful card. As indicated, the card has a speed of up to 80mb/s (UHS-1). The card has a capacity of 128 GB which is relatively considerable. The card is good for photographers who are on a budget and still want the best out of their DSLR cameras.
A lot of modern cameras, including digital single-lens reflex (DSLR), come with one or more slots for SD memory cards. Professional cameras and high-resolution camcorders need speed, performance, capacity and reliability. Professional photographers and videographers prefer SanDisk memory cards.
3. Sandisk Extreme Pro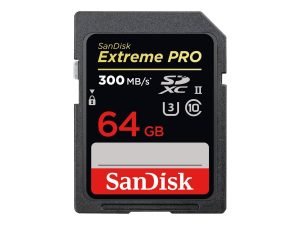 Need for speed? This is the world's fastest SD card you can buy. You can get a 300MB/s SD card for your camera. It's ideal for professional photographers and videographers recording extreme sports and other fast-action activities without dropping frames. This SanDisk card also comes with a RescuePRO Deluxe data recovery software download offer. You can choose the available capacity starting from 32 GB to 128 GB.
The Best CompactFlash (CF) Memory Cards
SanDisk Extreme PRO CompactFlash Memory Card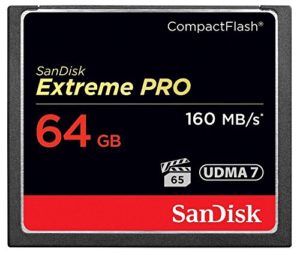 Want faster shooting and cinema-quality video? The SanDisk Extreme PRO CompactFlash Memory Card, speeds of up to 160MB/s, is designed for that need. It allows you to capture smooth 4K video as well as Full HD.
The Best microSD Memory Cards
The fastest, most reliable, and durable are the best micro SD memory cards to have for our modern digital devices such as the smartphones or even drones. This small memory card is handy for most Android smartphone or tablets. Usually, we now need the class 10 for a smooth Full HD video recording. Some other cards can also support up to 4K video shooting. Depending on your budget, you'll have a variety of the best choices in this review. There are different classes for different speeds (for writing and reading). For years, I've used a number of the micro SD cards. Also, after testing and a great amount of time of my research, I will list down the top, best quality products you can buy.
1. SanDisk Extreme PRO microSDXC UHS-II Card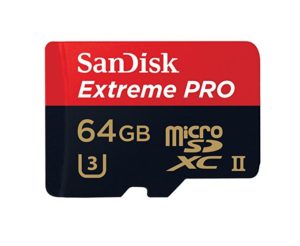 In 2017, this is the world's fastest microSD card you can buy. With transfer speed up to 275MB/s, you'll be very much delighted to access your recorded videos. This also means that you can play your video with stunning quality on 4K UHD TV screens and monitors. SanDisk has made its reputation among photographers for many years. In 2016, Western Digital Corporation acquired SanDisk Corporation. This news will only make the product line of memory cards from SanDisk and Western Digital even better.
2. Samsung microSD Evo
Now, there's another crazy deal. Samsung has this card. The Samsung 128gb 100mb/s (U3) microSD Evo select. This card has all and exceeding benefits a DSLR camera user would need. From the 128 gigs of storage to the high 30mb/s write speed. This card is absolutely a beautiful choice SD memory card for DSLR camera. However, the card pricing might be high for some fellows and cheap for others anyway. It depends on the size of your pocket. For some USD 39.99 is much while others its worth it. Finally, you would also need to consider the San Disk extreme pro 64gb. The card is a UHS-I SD memory card. This means that the card has a speed of up to 104mb/s. This card also has a benefit of it's high storage capacity, 64 GB, which should be enough. The SD card will however set you back around USD 36.52 on Amazon.


The Best XQD G Series Memory Cards
Sony Professional XQD G Series 128GB Memory Card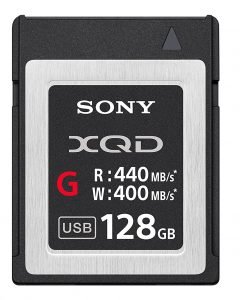 You can consider this Sony XQD G card the ultra speed CF card that can capture up to 200 RAW images which is 1.5-times more shots per burst. Unbeatable speed (maximum read 440MB/s, and maximum write 400MB/s). Most Sony camera owners understand the need for a stable 4K video recording. This is the memory made for this purpose. If you've got a Sony camcorder, this card supports EB streaming between card and the camcorder. How many files can this 128GB store? Up to 12k RAW files from a Nikon D850 DSLR camera. Overall, this is the fastest XQD memory card you can buy for its price.
Features:
128GB Storage Capacity
Max. Read Speed: 440 MB/s
Max. Write Speed: 400 MB/s
XQD Format Version 2 Compliant
In Conclusion
I'm sure that this review will help you to decide which is the right, best memory cards, SD Cards, CompactFlash, and microSD, before buying the product to gear up your photography and studio. These memory cards are the best of its class. They're also good gifts for aspiring and photographers during important occasions like birthday and new year. If you've got a digital camera or camcorder, you'll certainly need the best memory cards for the photo and video files you capture. What to look for when you want to add the best memory cards to your collection for your digital camera.
More reviews: