The Best Canon EOS RP Accessories
The Canon EOS RP camera is an excellent choice for various genres of photography, including street and travel, thanks to its modern design and flawless functionality. It is complemented by the outstanding Canon RF lenses, which further enhance its capabilities. However, you might be curious about the best accessories available for the Canon EOS RP. In this article, we will introduce you to a selection of top-quality Canon EOS RP accessories that can elevate your picture quality and overall shooting experience.
The Canon EOS RP is a mirrorless full-frame camera and a more compact version of the popular Canon EOS R. The "RP" stands for "popular," highlighting its wide appeal. This modern device is equipped with a 26.2 MP sensor and powered by the Digic 8 processor. It boasts an ISO range of 100-40,000 and features Dual Pixel CMOS AF, delivering the fastest autofocus performance in the world. Furthermore, the camera supports 4K video recording at up to 25 fps and can shoot 1080p footage at 50 fps.
Now, let's delve into the best Canon EOS RP accessories that can enhance your photography journey.
A List of The Best Canon EOS RP Accessories
Battery Grip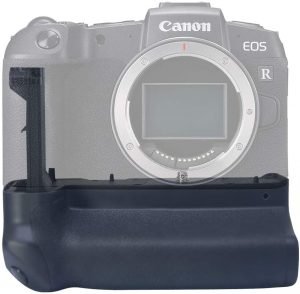 With the battery grip, you are safe since it has a large capacity to offer you sufficient power to maintain shooting with absolutely no compromise. It is essential when you require dual batteries to make a double shooting time since it will provide you with stability and generate a vertical shooting button. Anyone who has engaged in vertical shooting probably knows the importance of stability. This accessory has the potential of making you delver incredible performance. Thus, you can opt for it to give you enough stability.
Pros
It has dual battery life.
This accessory comes with an extra shutter button to generate enough stability and give you sharper images.
It boosts your camera connection.
It is comfortable when handling since it has a slim design.
Con
It does not function with all types of batteries.
Memory card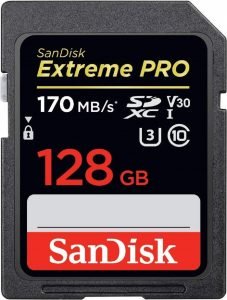 A memory like SanDisk 128 Extreme Pro UHS-I is the topmost memory card; it allows you to take as many photos as possible without delays of the card writing your file. If your card is slow, you cannot let go of this accessory since you cannot manage to miss your shoot because your memory card is slow, especially at writing your videos and shots. This means you should always carry an extra memory card whenever you go for your shoots, and you are taking tons of videos and pictures. Thanks to this accessory since it has made shooting enjoyable and fun, make it your number one choice, especially when shooting on fireworks and weddings.
Pros
It is shockproof and waterproof.
It promotes burst shooting and 4k video.
This product is worth the value.
It has the potential to write 95MB/s and 90MB/S
Con
Sometimes it might fail to function effectively.
Battery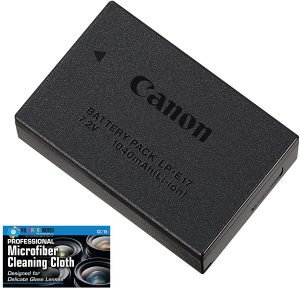 In case you are a purchaser of official batteries, then the LP-E17 canon battery is suitable for you; it costs approximately $60. Furthermore, this brand is famous, and it generates you the selection security by offering you a maximum-quality battery. If you opt for a cheaper alternative, you are likely to experience failure in your career. However, the kind of battery determines how you deliver your services, so if you have a quality battery, your productivity will be remarkable.
Pros
It has long battery life.
This product delivers a super excellent performance.
It is a quality product.
A single charge can give you 950 shots.
It is worth the price.
Con
It does not come with a guarantee.
Tripod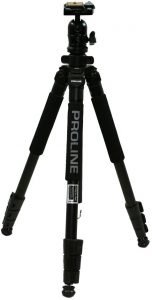 The Dolica AX620 ball head and tripod are appropriate for both outdoor and indoor photography. Moreover, it is suitable for sports activities and events to capture an outstanding shot. On the other hand, it is the best tripod that falls under $100 for any given camera; it goes at $50. However, it is recommended that you find a tripod for more special events that it is sturdier at a price of around $300+. Most people find this to be more than enough since it enhances their productivity.
Pros
It is an excellent tripod.
This product is worth the price.
It is a quality product.
It has a bubble level and a head plate.
This accessory has 62 inches maximum height.
It is easy to use.
Con
It is a less durable product.
Control Ring Mount Adapter EF-EOS R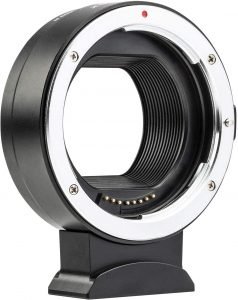 This product functions as a Canon EF-EOS R mount adapter. However, this product contains a control ring; this ring is responsible for generating additional customization. Additionally, tackling the control ring is a simple task that you do not need to worry about anymore. It has an in-built control ring, which generates quick access to the functions of your camera. This accessory has a metal mount on both the camera and lens sides developing rugged flexibility. Furthermore, this accessory is water and dust resistant.
Pros
It comes with a package of accessories, such as Lenspen FilterKlear Lens Pen, PD 6pc complete cleaning kit, and PD Neoprene Sling Strap, among many more.
It is dust and water-resistant.
It delivers a remarkable performance.
This product is worth the price.
Con
You might find the wrong item packed if you are not careful.