The Best GoPro for Vlogging
If you are an adventurous vlogger or someone who loves high-intensity action shots, a GoPro camera is an excellent tool for you. It's also perfect for vloggers who enjoy underwater activities or hands-free continuous recording. For beginners, GoPro cameras are an ideal starting point for vlogging because they are easy to use and produce high-quality videos. With a GoPro camera, you can also add music or narration to your videos while recording.
However, choosing the right GoPro camera can be challenging, so we've put together a list of the best options for vlogging. But before we dive into that, let's discuss some features to consider when purchasing a GoPro camera for vlogging.
Waterproof capability is an essential feature to look for in a GoPro camera. Choose one that can work without a casing underwater, and consider getting a case for deeper depths. Another critical feature is high-quality video and photo capabilities, especially if you vlog professionally. Even if it's just for fun, a camera that produces excellent shots and videos is worth investing in.
Durability is also an important factor to consider, particularly for adventurous vloggers or sports enthusiasts. Look for a camera with a sturdy build that can withstand falls and bruising, so you won't have to replace it quickly.
By keeping these features in mind, you can choose the best GoPro camera for your vlogging needs. So go ahead and take a look at our top picks to start creating amazing vlogs!
Top 5 GoPro for Vlogging
GoPro Hero7 Black — Waterproof Action Camera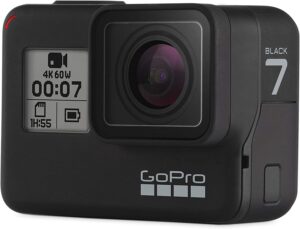 If you are after smooth footage, then a GoPro Hero 7 is the camera for you. This camera has been battle-tested and is made to be waterproof without even needing housing. This is one of the most advanced GoPro that has ever been made, making it better and worth the cost. It can provide you with hyper smooth stabilization making you achieve a great video. It comes with a new photo mode that enables you to take the best pics automatically. With the GoPro app and this camera, you can effortlessly stream and share an excellent video live with your viewers.
If you want to take your videos and photos to a new level, then this is the camera to get. With this camera, you can stream directly to any of your social media pages. The camera can also be controlled hands-free with voice control. You can command it to take a photo, record video, and even stop recording. With the super photo feature, you get HDR, noise reduction, and local tone mapping, all intelligently applied to optimize your shot.
Features and pros:
Rugged and Waterproof
Super Photo feature
720p Live Streaming
Time Warp Video
Hyper Smooth
Voice control
Cons:
Poor battery life
GoPro HERO8 Black – Waterproof Action Camera
Hero 8 Black GoPro camera is one of the most versatile cameras in the market. It comes in a streamlined design that makes it easy to carry around in your pocket. Swapping the mounts will only take you a second, and that is all because it comes with built-in folding fingers. Another great feature of this camera is the optional media mod, and it allows you to experience more lighting through ultimate expandability. You also get pro audio and an additional screen which makes it a plus to have this camera.
With the hyper smooth stabilization, you get to experience the slow-motion that can drop jaws anywhere and anytime. With a streamlined design, you can take the camera anywhere by just carrying it in your pocket. There is also a sliding door that makes switching of batteries very easy and fast. With all the improvements, the lens is 2x more able to resist impact. You get three levels of stabilization which include boost, high, and on. That way, you can pick one that is the best option for you, depending on what you are doing.
Features and pros:
Super Photo + HDR feature
Live Streaming in 1080p
Streamlined Design
Night Lapse Video
Expandable Mods
Digital Lenses
Hyper Smooth
Time Warp
Live Burst
Cons:
Some features are not available
GoPro Hero — Waterproof Digital Action Camera
We are in the age of technological advancements, and the GoPro Hero camera is a full proof of how far we have come. It has excellent features like a durable waterproof design, and the screen is touch. With this camera, it is effortless to capture incredible shots when on a great adventure. You can also use it to capture everyday items enabling you to become more creative each time. The touch screen is two inches enabling quick switching of modes. You can quickly frame the perfect picture and check the footage at the same time on the screen.
The camera is also waterproof making it very durable and long-lasting, all because of its tough build. If you are an adventurous person, you know that there are places your Phone won't reach to capture the shot. However, with this camera, you will be able to go anywhere and capture anything. There is also a voice control feature that allows you to command the camera to do something by just using your voice. You can also remotely connect to it using the Bluetooth and WI-FI feature.
Features and pros:
Auto Offload direct to Phone
Waterproof and durable
Quick Stories Enabled
High-Quality Photos
2-inch touch screen
Auto Cloud Backup
Wi-Fi + Bluetooth
Full HD Video
Voice control
Con:
Expensive
GoPro Camera Fusion – 360 Waterproof Digital VR Camera
GoPro Fusion has gained popularity so much because of its ability to record and capture everything in 360 degrees allowing you to find the best shot from different angles. For traditional videos and photos that you can share, playback in VR. It also features ultra-smooth stabilization and not forgetting 5.2 k video quality. When you have this camera, you will always take professional videos and photos. Capture 360 spherical videos, and it does not matter what you are recording as the camera can shoot in all directions at the same time.
With the over-capture feature, you will be able to punch out and frame the best shot at any angle enabling you to create the most amazing traditional videos. With the GoPro app, you will also be able to create and control videos and also be able to share them with your Phone. With this camera, you are also able to switch videos without the need to change lines seamlessly. The camera is also waterproof, down to 16ft which is 5 ft. without any need for housing.
Features and pros:
Spherical video and incredible photos
Seamless Video Stitching
Over capture
Waterproof
Fusion Grip
Create
Cons:
Pricy
GoPro MAX — Waterproof 360
Having the GoPro max is like having three cameras at once. It comes with a lot of features, including spherical capture that makes it a vlogging powerhouse. The GoPro max is the most creative camera that will enable you to capture traditional videos and photos, and you don't have to worry about the stabilization breaking. You will be able to shoot footage in 360 degrees no matter the time and place making you a professional vlogger. If you want to snap a panoramic shot, you don't have to pan; you click and capture.
The camera also comes with six mics inside, giving you a 360 audio sound like no other. The screen is front-facing, and with three cameras in one, you can Vlog to the maximum. You will also get to experience unbreakable stabilization as you have an 1800 capture for your ultimate buffer. With the horizon leveling feature found in hero mode, you will encounter game-changing captioning. Whether sideways or flipping through the air, you will get to experience a tremendous cinematic look.
Features and pros:
1080p Live Streaming
Three Cameras in One
Premium 360 Audio
Max Hyper Smooth
Horizon Leveling
MAX Time Warp
Digital Lenses
Con:
Expensive