Top Best iMac Stands (2022)
iMacs have proved to be among the best pieces of technology available in the world of computers. This is due to their efficiency, speed, and sleek design. Top rated iMac stands further improve iMac user experience by organizing a workspace and housing the iMac. You'd get a sturdy and ergonomic position for users to enjoy. iMac stands convenience remains undisputed, as seen from our compilation of the best iMac stands to own. They are not only convenient but affordable, useful, and help in the organization of workspaces. They also offer protection against spills and other minor accidents, which goes a long way in care for your devices. Irrespective of what your style is, or the generation of iMac you own, there is something for everyone to enjoy.
Top Best Affordable Standing Desks
A List of Top 5 Best iMac Stands
Twelve South HiRise Pro iMac Pro Stand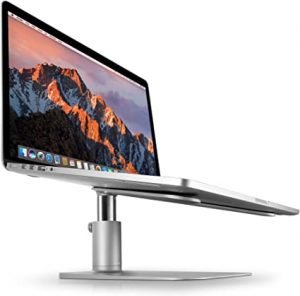 This is the ultimate stand for iMac users with a remarkable design and great functionality. Its popularity is associated with its sturdiness and suitability for the job and is a favorite among many. It comes in a unique polished dark walnut and aluminum frame which gives added aesthetics. Moreover, it retails at under $80, a competitive price for a stand of its kind.
Pros
Stylish design and modern finish.
Sturdy to support any iMac with ease.
Exposed base gives a cooling effect.
Adjustable to four different heights up to 6 inches.
Padded top for additional anti-slip feature.
Ample hidden storage for earphones, chargers, and other small items.
Cons
Bulky hence it is not easily portable.
Jokitech Stand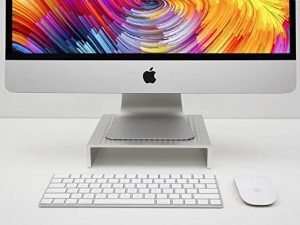 This is a simple yet functional stand ideal for users with a more minimalistic taste and preference. If you enjoy clear, open worktops this may be the stand for you, available on amazon at less than $40. Also, it comes in two colors, silver and space grey which match the simplistic iMac colors to perfection.
Pros
Simple modern design to blends with iMac.
Provides enough space underneath to store a keyboard and mouse.
Sturdy, does not bend and can hold up to 90kgs.
Suitable for any desktop, laptop, or notebook.
Cons
MonitorMate ProBase Aluminum Stand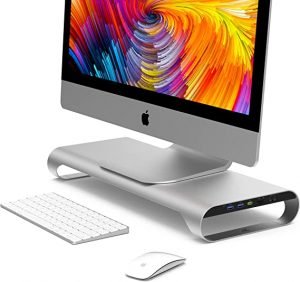 First, let us appreciate the impeccable work put into the design and features of this stand. This is an advanced stand that offers its users more than just a frame. Although priced higher than most iMac stands at $138, this purchase is worth every penny. If you are a lover of tech, then the MonitorMate ProBase stand may be worth looking into.
Pros
Modern, sleek design.
It has additional features, including an inbuilt memory card reader, USB and ethernet ports, and a fast-charging port for iPhone 8 to newer models.
Storage space underneath to keep away cables, mouse, and keyboard when not in use.
Cons
Unique functions are mainly applicable to IOS users only and may not benefit other users.
Samdi Monitor Stand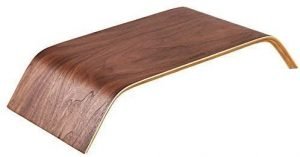 This unique stand is made of wood and is among the best-selling iMac stands of this design. It ranks competitively among its metallic counterparts and still performs better than most stands. For its design and performance, it comes as a steal priced at only $55. It is made from eco-friendly wood and thus is suitable for users of all preferences posing no harm to the environment.
Pros
Suitable for all computers and laptops.
Provides ample desk space by lifting the iMac significantly off the desk.
Area underneath offers a lot of storage for a keyboard, mouse, and other stationery and accessories.
Improves workstation aesthetic with its retro wooden design.
Cons
Prone to wear and tear with time.
Occupies more space.
Satechi Monitor Stand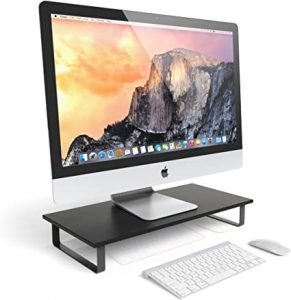 This stand combines excellent features and affordability in one. It is durable and the right choice for users who want something simple and stylish without breaking the bank, priced at just under $40. Its biggest selling point is the attractive price point with no compromise to quality.
Pros
Suitable for any desktops, laptops, or notebooks up to 33lbs.
Provides convenient height for good posture, typing position, gaming, and other use.
Durable aluminum frame.
Cons
Non-adjustable.
Lacks grip enhancing feature.