Who doesn't want a stylish strap for a Leica camera these days? A legendary Leica camera is great when you tie it with the top best strap.
Whether you like the strap that comes with your Leica X and M camera or not, this list will help you get a more comfort strap.
The top rated straps should be
made from leather, vintage, and hand-crafted.
Easy to use and carry around.
In this list, you'll find the best camera straps for Leica cameras (X and M Series).
A List of the Best Accessories for Leica Camera
A List of Top 10 Best Leica Camera Straps in 2019: Review
1. Leica Leather Carrying Strap



With this leather strap, you'll feel more secure than ever. In my short and sweet words for this Leica strap are: It does looks beautiful.
You'll feel good about having this with your camera. The size is just perfect. It's also easy to install and remove. You've got a Leica M10? Buy this strap.
For X and M Series cameras
Comes with a protection flap to prevents scratches

Made from calfskin leather
2. Leica Rope Strap Designed By COOPH


Made in Germany, the O-ring can be used with all M cameras, Q cameras, X (excluding X-U0, and the TL, with a strap lug). It's another nice strap for Lecia cameras. It's short and thick that keeps your camera secure and steady.
The rope straps with a nylon belt can be used with the Sofort and V-Lux and binoculars. Also, the rope is comfortable around a neck or wrapped around a wrist  It's both strong and stylish. 
Holds Camera with Lens
Italian-Made Leather Details
Ring Connectors
Not cheap
3. Leica Leather Carrying Strap for TL (Red)


Made from fine Calfskin leather, this camera strap is for Leica TL and T camera. The embossed Leica logo makes this comfortable strap looks very handsome.
Designed for Leica TL and T Cameras
Sliding Pad for Comfort
Flat Cord Connector Rings with Protector
4. Street Strap – 46 inches Soft Round Camera Strap

Made from soft nylon weave, this strap will not irritate your skin. This is one of the best choices for Leica M series, Olympus and Panasonic Micro 4/3, Fuji X100 and X10 and more.
46 inch soft round camera strap
Fits any camera with side lugs
Use around the neck, across the body, on the shoulder
5. Leica Neck Strap with Anti Slip Pad for M series Cameras

What I really like about this neck strap for Leica is that it connects the camera via metal clips that fit through your camera's strap lugs. It's then locked in place with plastic guards.
Features:
Maximum Length: 42″
Adjustable Length
Attaches to Camera Lugs
Removable
6. Henri by Eric Kim Handmade Premium Leather Camera Neck Strap

If you prefer a hand-made leather strap, this is highly recommended, too. The strap is beautifully crafted with a great attention to detail.
Handmade in small batches with premium-grade leather

Adjustable drop length: 15″ to 19″ (Total length 43″)

For Fujifilm, Leica, rangefinders, film cameras, micro 4-3rds, and medium sized cameras
7. Barton 1972 Leather Camera Braided Red Strap

This beautiful red strap will make most photographers comfortable doing street photography.
42 inches long
W

ell-made designer

leather

strap

Secure, comfortable (around your neck), flexible and strength
8. PHANTOM BLACK Henri by Eric Kim Handmade Premium Leather Camera Wrist Strap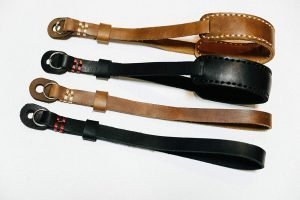 The Phantom Black is the best budget strap made for Leica camera photographers. It's just the right size, strong, and flexible. What's more? Stylish and easily adjustable.
Fits all Fujifilm cameras (X-Pro series, X100-series, etc), all Micro 4/3rds cameras (Olympus, Panasonic, etc), all Leica cameras (Leica Q, M, film M, etc), and most film cameras
9. Leica 18823 D-Lux (Typ 109) Wrist Strap 


If a neck strap is not your favorite, then I'd suggest that you get this wrist strap for your Leica camera instead.
Comfortable to handle

Convenient, quick, and Functional
Minimalist wrist strap setup

Handcrafted with premium genuine leather
10. Black Outdoor Cord Camera Neck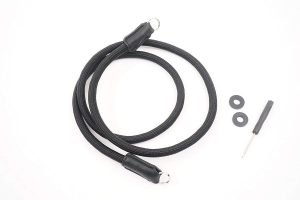 Are you looking for a top rated neck strap for your Leica and mirrorless camera? I highly recommend you get this Black Outdoor Cord Camera Neck.
Cord material: Premium polyester, The end is Genuine leather
Hand made
Flexible and soft

Perfect length and width
Good to Know
After doing hours of research, talking to a dozen of experts and testing 20 different straps, I found the best Leica camera straps for photographers. This list above provides you the top selected straps for Leica cameras.
In my previous reviews, I also covered the straps for DLSR, made from leathers, or for hiking or women (or moms).
Related Lists: