Most professional photographers will tell you that you need a comfortable camera strap, especially for outdoor and travel. The best camera strap makes it easier for hauling your gear long distances. The right camera strap helps support more weight safely. It gives you more stable to prevent the camera from banging around when you move. Take a look at my picks below and see which one will best fit your situation (especially for those who aren't happy with the included camera strap that came with their camera). This is a list of the best camera straps for most photographers.
Top 10 Best Camera Straps for Most Photographers in 2018
10. ONA Presidio Camera Strap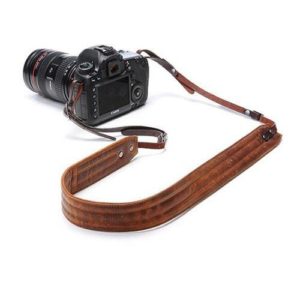 Unlike the Pangshi's cheaper camera neck strap, this ONA Presidio camera strap was handcrafted with an Italian-tanned leather neckline. So it's much more expensive. It comes in two colors: antique cognac and dark truffle. It is a long but easily adjustable strap. The strap is comfortable to wear for extended periods and grips sufficiently to prevent the camera sliding around on its own but can be moved when positioning for a shot quite easily. You can easily wear cross-body; it's designed for use with camera kits weighing up to six pounds. Drop length? Adjust from 19.5″ to 23.5″. It's one of the most comfortable leather straps we highly recommend.
9. Peak Design Slide SL-2 Camera Strap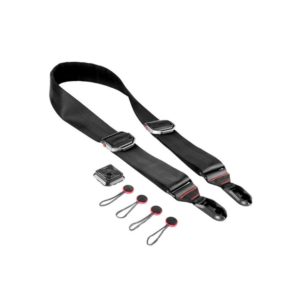 Its Anchor Link system makes it super easy to detach your camera. Build quality is really good as it's made of nylon and foam materials. The Peak Design Slide SL-2 camera strap is made of what seems to be automobile seat-belt material and can slide for maneuverability, and has some rubber on the reverse when you need the strap to remain positioned. More importantly, this Peak Design Slide Sl-2 camera strap is compatible with most cameras. When you unbox, you get the Slide Camera Strap 4 anchors, standard tripod plate, large microfiber pouch, hex wrench, sticker, and an owner's manual. I used this on a Nikon D600 with the Nikkor 70-300mm VR lens for longer walks through the woods. No problems with this setup, no pain, no switching back a forth on the shoulders, and no holding the camera lifted slightly to lessen the weight on the shoulders. Perfect. Comfortable. Highly recommended!
8. Lowepro Transporter Camera Strap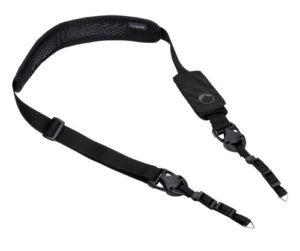 A good list of top 10 best camera straps cannot avoid this one from Lowepro. Lowepro Transporter camera strap is one of the best to include. The unique design has a comfortable, non-slip shoulder pad that stays in place even when the strap is adjusted to a variety of lengths or swung completely out of the way while using another piece of equipment. This strap has survived international travel, bad weather, long hiking in and out of civilization, and countless professional shoots over the past few years. It's my favorite strap and the most comfortable one I've ever owned.
7. MOD 265 Camera Strap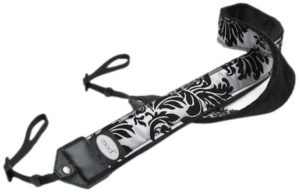 What about having the finest fabric camera strap you can carry around with your camera? This is the one of the top 10 best on the list. All MOD products are manufactured in the USA, deep in the heart of Texas. With this Mod camera strap, you can feel safe and secure with your digital camera. It's designed to be compatible with most SLR and DSLR cameras. It's super strong, so even with my heavy zoom lens attached to the camera, I don't have a worry about its secureness. You can select lengths from 42″ to 48″ to accommodate your needs. High-quality workmanship for the great price. They are not only pretty but much more comfortable than the straps that come with my cameras. They are durable and I've had one that has lasted for about 5 years with no problems and still going strong.
6. Mavota Universal Camera Strap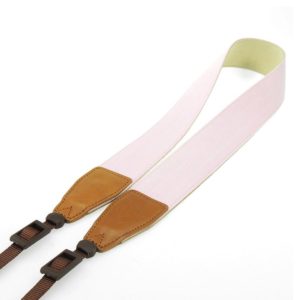 Made of high-quality pure cotton webbing, top cowhide, and super-soft fiber cloth, this camera strap is very good for its price. The plastic fasteners ensure you to use the camera without worrying about damaging it. In addition, the universal interfaces are compatible with cameras made by different manufacturers. Whether you're a Nokian or Canonian, you don't have any issue with this camera strap.
5. Pangshi Camera Neck Strap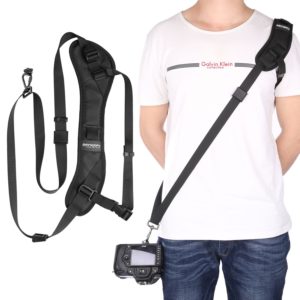 This camera strap is based on ergonomic design. The weight is distributed evenly by way of your shoulder. It's made of nylon for extreme durability. This adaptation of the neck strap keeps your camera handy. The strap securely attaches to your camera by using the locking snap hook, and the tripod mounts on the bottom. The shoulder is padded for all day comfort. Excellent and useful accessory, and a value at this price. For a serious photographer who wants a strap that gives them the maximum in comfort, stability, and speed, the Pangshi Camera Neck Strap provides for less than $12.
4. FASTFIRE Cross-body Sling-style Camera Strap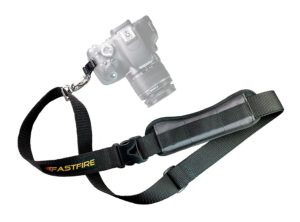 Made in America by a small, (Military vet) family owned and operated business.
It carries my D750 and any lens that I may be used with ease, and keeps them securely at my side and out of the way, with zero neck fatigue. It's pretty natural and intuitive and nothing out of the ordinary while taking a photo. Works the same for portraits, with my palm supporting the camera while holding the camera vertical. The camera rests hands-free at the hip until ready to shoot, then slides freely up and down the strap to any position. This camera strap is overall a strong strap.
3. Black Rapid RRS-1BB Sport Shoulder Sling Strap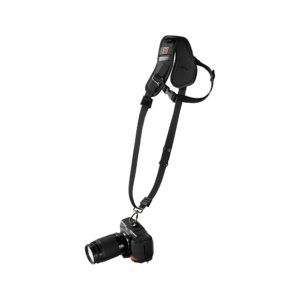 First thing first, this strap was designed for active shooters. It's integrated BRAD underarm tether with an ergonomic right-handed camera strap. It's suitable to carry heavy professional gear comfortably. Its unique shoulder pad shape built for optimal weight distribution.
2. Wannabuy Camera Soft Bohemia Shoulder Strap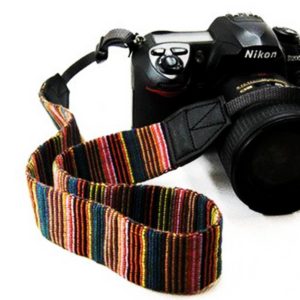 This camera strap was designed for DSLR and SLR cameras. It's compatible with Nikon, Canon, Panasonic, Sony, Olympus, Pentax cameras.
Product Specification:
Material: Durable Cotton Yard
Size: 54 x 1.4 inch
Color: As Picture Shows
Net weight:50g
1. BESTTRENDY Neck Strap for DSLR Camera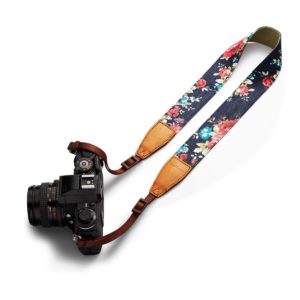 It's well made of Japanese Nifco and American Duraflex high-tensile plastic fasteners. The adjustable length makes the camera strap applicable to most travel and wedding photographers. Nice packaging. Strap appears as described and well made. This Besttrenddy Neck Strap is very cute. It's also very soft. You'll love how my camera looks with it. It was so comfortable to wear and seems like it's made extremely well.
Interfaces: universal type.
Materials: denim, ultra soft fibrous cloth and top cowhide.
Length: adjustable.
Conclusion:
These are the best camera straps because it's very comfortable and looks nice as well which is a plus. Sturdy and padded for use with full frame DSLRs with large lenses, but low-profile  enough for smaller mirrorless cameras. Attaches to any camera's strap loops or tripod socket using included ARCA-compatible tripod plate. These camera straps offer more lightweight options in the event you're using a smaller DSLR, a mirrorless alternative, or a compact camera.
Related Reviews