Travel photographers need a lightweight, strong, and sturdy tripod. The best travel tripod is one of the must-have accessories. The best camera tripod is one you can easily take it with you when you travel or backpack.
Camera tripods come in all shapes, weights, heights, and styles.
In this review, you'll get to know 10 best travel tripods for DSLR and mirrorless cameras.
Also: The Best DSLR Camera Monopods
A List of Top 10 Best Travel Tripods for DSLR and Mirrorless Cameras in 2019
1. Geekoto Tripod, Camera Tripod for DSLR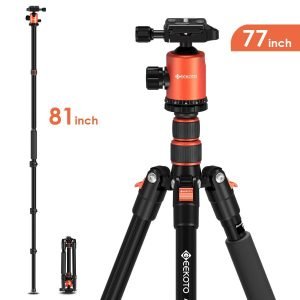 The Geekoto Tripod can can rotate 360° and get free angles. Made from aluminum alloy, the tripod was built to last. Strong and sturdy for stable photo shooting.
This tripod is much more than you'd expect for the price. It's very light and versatile, making it the best travel tripod for most professional photographers.
1.53kg tripod
8kg maximum load weight
2. MeFOTO BackPacker Air Tripod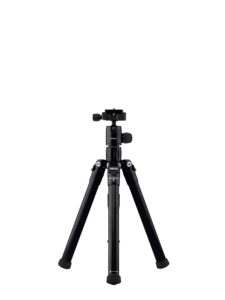 This travel tripod is ideal for smartphones, compact cameras, action cameras and small mirrorless cameras.
This is the best tripod for a backup or beginner setup for travel. It's small and light but extends tall and stable, making it the perfect mini-tripod to take with you on the road.
Quality build and fast setup.
Sturdy, super light, extends to eye level.
3. Sirui T-2005X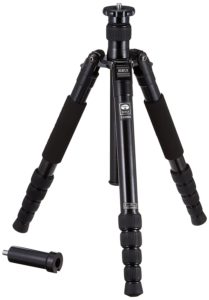 Folds smaller than comparably sized tripods with conventional leg designs. These are the features you should know about this Sirui T-2005X. Ideal tripod for travelers –
Full-sized, but folds down small
Legs fold up 180° for extra compactnes
Legs have an automatic leg angle lock mechanism
4. Vanguard Alta Pro 263AB 100 Aluminum Tripod Kit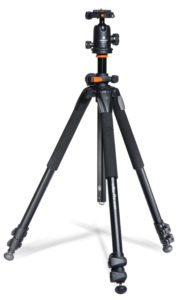 The Vuanguard Alta Pro tripod has unmatched flexibility, stability and enabling more angle possibilities than ever before.
Its SBH-100 fluid-like ball head rotates 360 degrees and has smooth locking knobs, an outstanding loading capacity and fine-tuning functions.
Vanguard Alta Pro 263AB is both taller and larger than the 264AB.
7.0kg load capacities
Quick flip leg locks and rubber feet
Magnesium die-cast canopy and anti-shock ring
5. Manfrotto MKBFRC4-BH Befree Carbon Fiber Tripod with Ball Head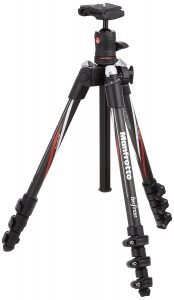 Made from carbon fiber, the compact design of this Manfrotto MKBFRC4-BH Befree is perfect for hiking and travel photographers who shoot landscape and wildlife scenes in the mountains.
Weighs only 1.4 kg (3 lbs), and it's 40 cm (15.7) when folded.
Compact size, light weight, and ease of setup
6. Beschoi Camera Tripod M254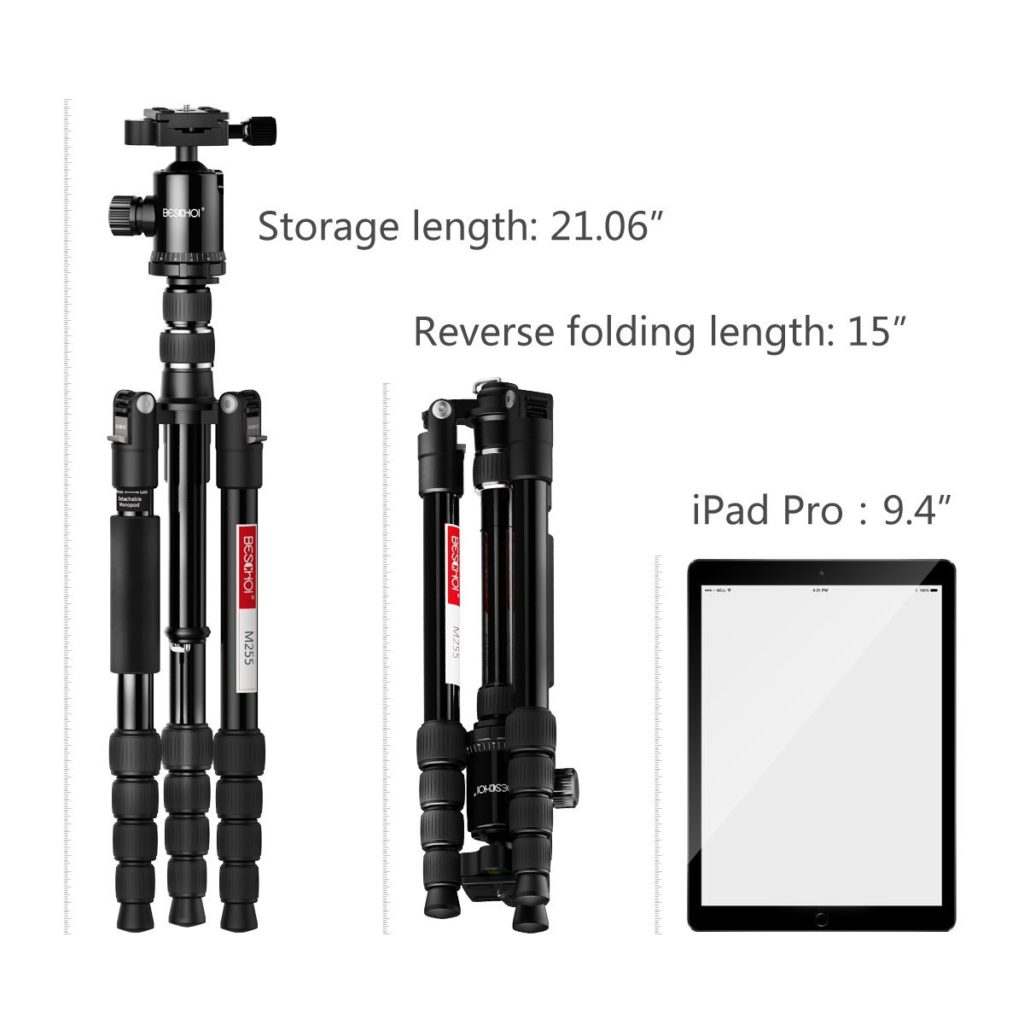 is the standard universal tripod that offers you the elements to take professional photos! What I really like about this German-made Beschoi camera tripod most is that it's lightweight but for heavy duty.
Flexible Hook—When hang weight, the hook will stretch out, and retract automatically when take it down. The stand is an amazing stand. The legs are adjustable as the height you need.
Made of high quality magnesium aluminum alloy,
It's durable and abrasion resistant.
The legs are adjustable as the height you need.
7. Vanguard VEO 2 235CB Carbon Fiber Travel Tripod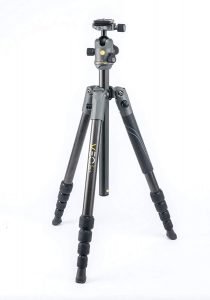 This is also one of the best travel tripod from Vanguard. Made from high quality carbon fiber material, the Vanguard VEO 2 235CB is light, strong, and sturdy.
You can use this as your travel tripod for heavy battery-gripped Canon 5D Mark 2 camera gear along with 70-200mm f/2.8 lens. The best, solid travel tripod.
3 mm, 5 section carbon fiber legs
Multi-action ball head with 3 independent knobs
8. Sachtler Ace XL Tripod System with Aluminum Legs

This aluminum-made tripod works seamlessly with digital cinema camera for film-making.
The reason I highly recommend this because many of us photographers prefer extremely lightweight that still provides maximum stability.
Extremely lightweight
Maximum stability
9. Manfrotto MVH502A Fluid Head

Manfrotto makes good quality tripod for cameras. This MVH502A is no exception. It's a super lightweight tripod system kit for camcorders or DSLRs.
A lightweight tripod system kit for camcorders or DSLRs up to 8.8 lb.
Aluminum telescopic twin tube legs
10. Gitzo GK1545T-82TQD Series 1 Traveler Kit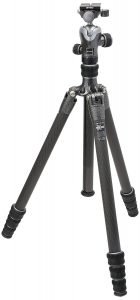 This tripod is compatible with most video cameras, digital cameras, GoPro devices, and smartphones.
It's quite portable and useful, lightweight with a bag and easy to carry around. If the price is within your budget, I recommend you go for it over the Manfrottro.
The premium price that comes with great quality
Weight: 3.2 lb
Supports lenses up to 200mm
Best Video Tripods for Filmakers
Good to Know
What provides the stability for your DSLR and mirrorless camera? For travel and studio photography?

The tripod comes with a three-legged camera support. In photography, we use a tripod to hold a camera steady without movement and vibration.
There are many brands, styles, and variations, buying the right tripod for travel photography can be a challenge. Why? The bigger the size of a tripod, the stronger it can hold your camera and lens. But, the downsize is that it's really a challenge for most travel photographers to pack and carry with a heavy weight tripod.
Having the best tripod for your primary use and need is crucial. The best camera tripod can help take your digital photography to a new whole level.
Most professional photographers invest in the best tripods, which is one of the camera accessories to carry with them.
The camera tripods can your be companions that will serve you various purposes. Experienced photographers who do landscape photography or others will also own a few to serve their specific purposes.
This list gives you ideas and options to choosing the top rated travel tripod that meet your need and budget.
My advice is that you spend on the quality tripod that you can easily take with you wherever you go.
Well-made tripod will last long. What's my pick for the best travel tripod? I recommend the Vanguard VEO 2 235CB Carbon Fiber Travel Tripod, which is ideal for those who travel a lot with their DSLR or mirrorless camera and lenses.
After all, buying the best travel tripod is a good investment that can last you your entire photographic life
Related Reviews: