Best Piano Microphones
Pianos are widely regarded as some of the finest musical instruments available. The enchanting sound produced by a piano is truly captivating, especially when played by skilled hands. If you want to fully appreciate the beauty of piano music, it is crucial to ensure that you have the right equipment, including a high-quality microphone specifically designed for pianos. By choosing the best piano microphone, you can enhance the sound of your instrument and achieve exceptional recordings.
When selecting a microphone for your piano, it is essential to consider its ability to capture and reproduce the full range of sounds produced by the instrument. A perfect microphone not only amplifies the volume but also enhances the acoustics, resulting in outstanding sound recordings. Given the diverse options available in the market, choosing the ideal microphone can be a daunting task. However, this article aims to provide you with a comprehensive guide to the best piano microphones available today.
Neumann U87: The Neumann U87 is a legendary condenser microphone known for its exceptional performance in recording acoustic instruments. It delivers pristine sound quality and captures the nuances of a piano with remarkable clarity. Its versatility allows it to excel in various recording environments.
AKG C414 XLII: The AKG C414 XLII is a versatile condenser microphone widely used in professional studios. With multiple polar patterns and a wide frequency response range, it offers precise and detailed recordings of pianos. Its exceptional dynamic range and low self-noise make it an excellent choice for capturing the full spectrum of piano sounds.
Rode NT5: The Rode NT5 is a compact and affordable pencil condenser microphone that delivers impressive results when used for piano recordings. With its extended frequency response and high SPL handling, it captures the rich tonal qualities of a piano and provides a natural and transparent sound reproduction.
Earthworks PM40 PianoMic System: The Earthworks PM40 is a specialized piano microphone system designed specifically for capturing the sound of a piano. It consists of two omnidirectional microphones that can be easily mounted inside the piano, providing a precise stereo image and an immersive sound experience.
DPA 4099P: The DPA 4099P is a clip-on condenser microphone designed for piano applications. Its discreet and flexible mounting system allows for easy attachment to the piano, ensuring accurate sound reproduction without interfering with the performer's playing technique. The microphone's exceptional transient response and extended frequency range make it a popular choice among professional pianists.
Remember that choosing the best piano microphone ultimately depends on your specific needs and preferences. It is advisable to try out different options and consider factors such as budget, recording environment, and desired sound characteristics. By investing in a high-quality microphone, you can truly elevate your piano playing and create remarkable recordings that capture the instrument's full sonic potential.
A List of Top 5 Best Piano Microphones
Maono AU-PM422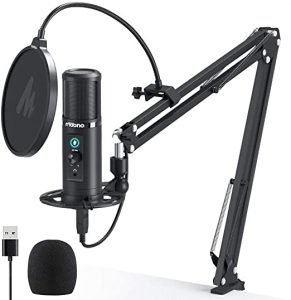 This product is a USB-linked condenser microphone that is professional. It has the potential of generating maximum quality recording of musical vocals and instruments. Note that this microphone comes packaged with a wind filter, pop filter, and a shocking amount. This allows you to record music of maximum quality in any given environment. Furthermore, this product's body is from a durable metal that safeguards the inner stuffing against any damage. It does not require any drivers to commence working since it has a play & plug support plus the USB connection, which is compatible with Mac OS and windows.
Moreover, Maono AU-PM422 features a desktop clip and an amounting bracket. This enables you to mount your machine to either a table or any other flat surface. On the other hand, it also uses cardioid directionality, which boosts the isolation of your 16mm capacitor electret converter and the sound source. The sound recorded is between 20-20000 Hz with a sampling rate of maximum resolution up to 192 kHz/24 bit. If you are looking forward to purchasing the best piano microphone, opt for Maono AU-PM422.
Pros
It generates quality sound.
It is an excellent product.
It is a quality microphone.
This product is worth the value.
It is a durable product.
Con
It does not work as advertised.
Neumann TLM 102 MT Condenser Microphone
The Neumann TLM 102 MT Condenser Microphone falls among the primary best piano microphone. This microphone has gained popularity due to its unparalleled quality, reliability, and clarity of your piano sound. It comes with a huge diaphragm to fit the audio you require; you also need to note that this microphone has the highest sound pressure for recording the entire piano models. On the other hand, this mic has a frequency response that is extremely linear to ensure reduced coloration and a defined bass range that is clear.
Additionally, its defined midrange that is clear and an appropriate bass response makes this microphone appropriate for piano recording. With it, you can confidently work on your projects from home. Bear in mind that this microphone is solid; this makes it easier for you to fine-tune it around your piano, especially when recording. Most musicians and artists love this microphone since you can position it anywhere; it is also durable and reliable. It has 144 Db, which is the highest sound pressure; it is equivalent to the CCIR noise level of 21 Db. This microphone works extra hard to meet the piano recording demands.
Pros
It is easy to set-up and use.
This product is durable and reliable.
It has low defined frequencies perfect for the whole piano recording.
It has maximum sensitivity to your surrounding sounds.
Con
Its installation consumes a lot of time.
MXL 770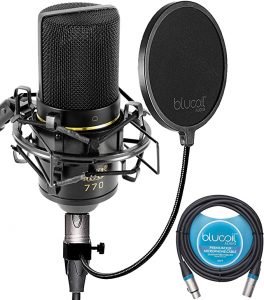 This microphone features the latest technology of microphone, and it comes packaged with professional features. This microphone model goes at a lower cost; it has the entire attributes from the studio microphone to phantom power; it is a condenser microphone containing 20mm aperture and 6-micron. On the other hand, it generates a suitable dynamic range; it sounds perfect at an upper range. Furthermore, it is equipped with maximum quality balanced output plus FET preamplifier. It is an ideal microphone for analog as well as a digital recording. Bear in mind that this microphone has been designed by Marshall Electronics to offer you free recording, especially for DJ's product industry. Most users love this MXL 770 microphone because it is affordable; you must know that it is an excellent performing microphone for voice recording and musical recording instruments.
Pros
This product is worth the price.
It delivers maximum performance for both musical recording instruments and voice recording.
It is a durable product.
It is a quality product.
This microphone is suitable for both analog and digital recordings.
Con
It is not a quiet product when recording.
Audio –Technica ATR2500-USB Microphone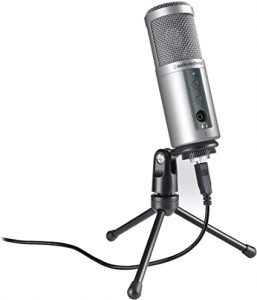 In case you are looking forward to advancing your piano recording at your home studio. You must know that this product is suitable because it meets all your demands and is simple to install. Moreover, you can link the microphone to your machine via the USB cable. Note that its meta construction offers you a reliable and durable performance; it also features a maximum-quality low-mass diaphragm and AD converter, enabling it to achieve an outstanding frequency response. This mic comes packaged with an adjustable tripod stand of a customized height, a USB cable, a threaded pivoting stand mount to enable everyone to feel comfortable. Note that this microphone is sensitive enough to sounds; this allows it to capture and record the entire sounds whenever you play your piano. It also has a built-in responsible for regular settings.
Pros
It has a built-in headphone volume control and headphone.
It is a quality microphone.
It is a durable and reliable product.
This product is worth the value.
It delivers superb performance.
It is a versatile product.
Con
It does not come with a sturdy stand.
Tonor Cardioid Condenser microphone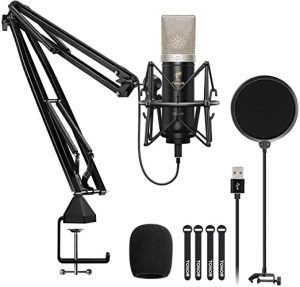 This product features a straightforward and classic design, capturing a wide range of low and maximum frequencies. It has a maximum quality diaphragm condenser casing that is gold plated; this gives it the potential to acquire a wide range of excellent piano recording frequencies. With this microphone, you will be able to record complex sounds without your sound getting lost. It comes with a durable stand with three pieces of bracing to boost its stability. You must note that this product is compatible with some operating systems such as Mac and Windows; this makes it easier for you to do your piano recording. If you are looking for the best piano microphone, opt for the Tonor Cardioid Condenser microphone, and you will experience a remarkable performance.
Pros
It comes with a warranty of two years.
It has a quality sound and outstanding frequency response.
This product is worth the price.
It guarantees you 100% performance.
Con
It is a less durable product.