Top 10 Best SD Cards for 4K Video (2022)
Before buying an SD memory card for your camera, what are the factors to consider? I'll examine key factors, including features, read and write speed, and reliability. What SD card do you need for 4k video? After spending days of tests, this is a list of the best SD cards and XQD memory cards you should buy. The best SD cards for 4K video recording for most photographers should be:
Reliable and durable
Fast (both read and write speed)
4K video quality
Solid build (minimal breakages)
Also: Best microSD Cards
Both Sony Tough and ProGrade Digital SD cards are built very solidly. They're just highly durable.
SD cards come in several classes according to their speeds. The classes include, class 2, 4, 6 and 10 with class 10 being the best and highest performance available today. For 4K video shooting, you should get a SanDisk U3 SD card. For a more optimal experience, both a UHS and U3 SD card with class are the best, fastest SD card to buy.
Having an SD or an XQD memory card is never enough, especially for travel photographers. You'd at least need a few extra memory cards as a backup or to avoid a situation that you run out of storage space. Above is an updated list of the best and fastest SD cards for most SLR and mirrorless cameras. I'm sure that this review will help most photographers buy the top best quality SD memory cards.
A List of Top 10 Best SD Cards for 4K Video Recording
SanDisk Extreme PRO Card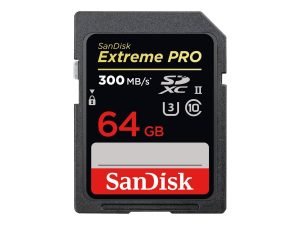 Need for speed? This is the world's fastest SD card you can buy. It's ideal for recording extreme sports and other fast-action photography without dropping frames. This SanDisk card also comes with data recovery software. Ideally, this SD card is the perfect choice for amateur or professional photographers.
Pros
Up to 300MB/S reading and 260MB/S writing speed
Capable for recording cinema quality 4K video
Shockproof, waterproof, temperature and x-ray-proof
Cons
Sony SF-G Memory Card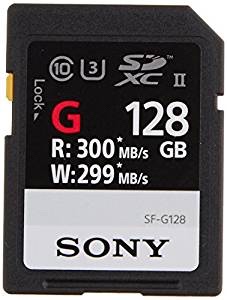 A storage capacity of 128GB allows you to focus more on your shooting, and less on fearing that you'll have no more space for your more great work. Buy this Sony 128GB SF-G Series UHS-II SDXC memory card for your peace of mind and enjoy shooting.
Pros
Fast and reliable
Read and write speeds of up to 300 MB/s
Cons
Not quite reliable
Not ideal in cold weather use
Read/write lock can easily and unexpectedly break off
Lexar Professional 1000x 64GB Memory Card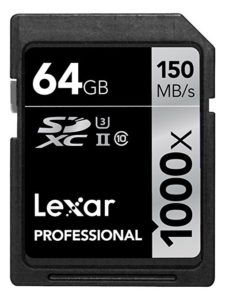 The Lexar Professional 1000x 64GB memory card is the best option. If this capacity doesn't suit your shooting need, you may also consider getting the larger capacity of 1TB Lexar Professional 633x SDXC UHS-I Card.
Pros
Available capacity up to 1TB
150MB/s speed
4K video ready
Cons
Slow performance than expected
Reliability: average
PNY Elite Performance 512GB SDXC Class 10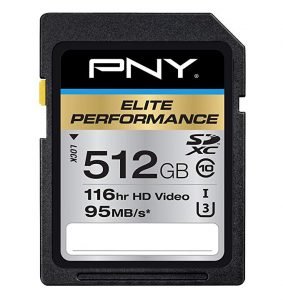 Need for large capacity storage? The PNY SD card is the best choice for most people. This SD card is fast for a camera recording images or video. How not for the Raspberry Pi.
Pros
95MB/sec speed for the ultimate transfer rates
4K Ultra HD video recording
Waterproof
Cons
Firmware issue with new camera
Slow transfer speed to computer
Silicon Power 64GB SDXC UHS-I Memory Card Elite Series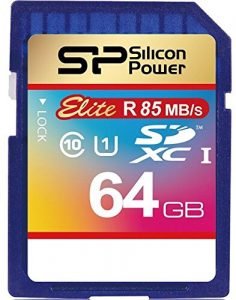 The best SD card for its price. Before buying, you should make sure that you get it from Silicon Power on Amazon.
Pros
Read speed: 85MB/s
Storage temperature: -40 Degree C to 85 Degree C
Cons
Not fastest reading/writing speed
Transcend 64GB SDXC Class 10 UHS-1 Flash Memory Card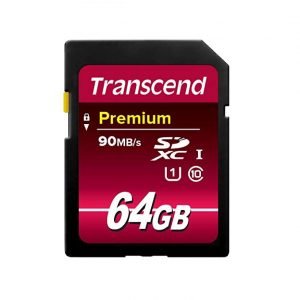 The Transcend comes with the RecoveRx Software. The Transcend SD card is not as fast as the SanDisk. However, it's much cheaper.
Pros
Built-in Error Correcting Code (ECC) to detect and correct transfer errors
Supports Content Protection for Record-able Media (CPRM)
Easy to use, plug-and-play operation
Cons
Write speed performance: average
Reliability: medium
ProGrade Digital SDXC UHS-II Memory Card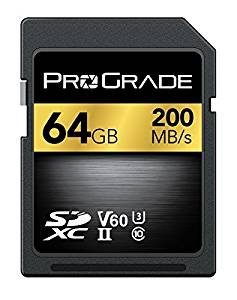 Both the speed performance and storage capacity makes this the best value for your money. The ProGrade SD card is compatible for most cameras from Canon, Sony, Nikon, Olympus, Panasonic, Fuji, and Samsung.
Pros
200 MB/s Read and 80 MB/s Write
4K, 8K, RAW, RAW HD ready
Cheap
Cons
Strontium Nitro 128GB SD SDXC Flash Memory Card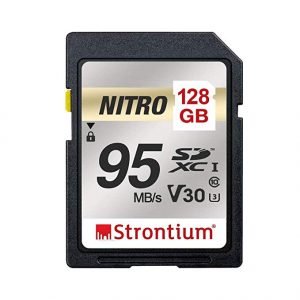 Backed By Strontium Lifetime Warranty, you'll enjoy having this Strontium Nitro SD Card for your DSLR and Mirrorless cameras.
Pros
Water Proof, Temperature Proof, Magnet Proof and X-Ray Proof
Not expensive
Cons
Durability and reliability: not high
Sony 128GB High Performance Class 10 UHS-1/U3 SDHC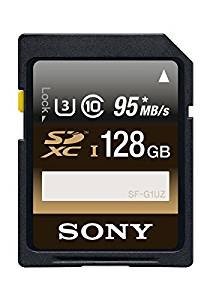 If you want a Sony's budget SD card with reliable quality, this Sony 128GB High Performance Class 10 UHS-1/U3 SDHC is the best for most beginners. The SD card works seamlessly well with my Sony RX10 IV camera.
Pros
Up to 95 MB/s transfer speed and up to 90MB/s write speed
Amazon's Choice
Cons
Toshiba 256GB EXCERIA PRO N502 SDXC UHS-II UHS2 U3 SD Card Memory Card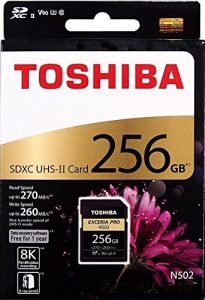 Toshiba continues to release new SD card to the market. The Exceria Pro is the best SD card for most photographers. The Toshiba SD card supports supports 4K/8K video recording. Made in Japan, the memory card is X-ray Proof. It can withstand harsh weather conditions very well.
Read : 270 MB/s , Write : 260 MB/s
Temperature durability
Perform well under rough condition
Operating temperatures from -20 ℃ to 85℃ (without condensation)
Cons
Related Reviews: