Being a professional photographer, the first thing you need is the best camera tripod after your digital camera. With so many new brands and options out there, choosing the right tripod can be a challenge. But owning the right tripod for your primary use and need is crucial. The best camera tripod can help take your digital photography to a new whole level. In this review, you'll get to know 10 selected best tripods for your digital camera. Most of the tripods are made from aluminium, but the thickness and strength of the legs varies greatly. Believe it or now, the right tripod can help boost your quality photo.
AmazonBasics 50-Inch Lightweight Tripod with Bag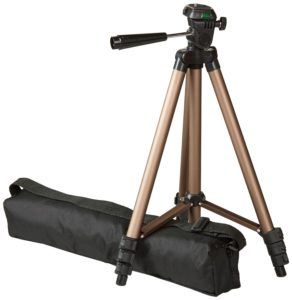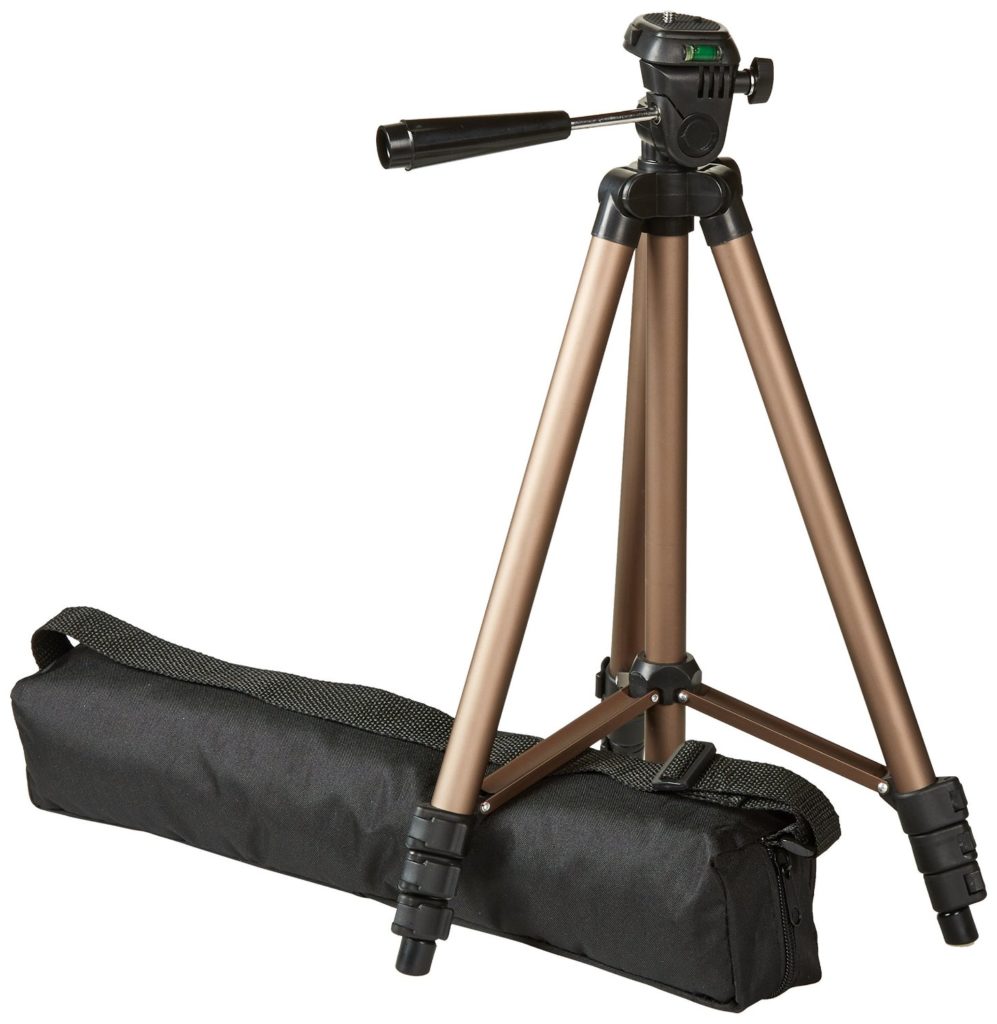 It is a basic, standard tripod that is practically universal. The tripod has a fairly standard quick disconnect shoe that fits in the quick disconnect head on the tripod. The shoe has a 1/4-20 standard camera screw. To connect the shoe to the device you may want to mount then just snap it into the tripod head, which is fast and easy. If you have multiple devices you can get multiple shoe.
Features: Adjustable-height tripod made of lightweight aluminum; weighs just over a pound
3-way head allows for tilt and swivel motion; portrait or landscape options
Quick-release plate helps ensure fast transitions between shots
3-section, lever-lock legs for easy height adjustments; zippered storage bag included
Measures 16.5 inches (collapsed); extends up to 50 inche.


MeFOTO BackPacker Air Tripod
This travel tripod is ideal for smartphones, compact cameras, action ca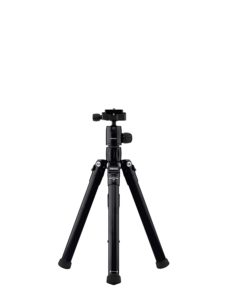 Sirui T-2005X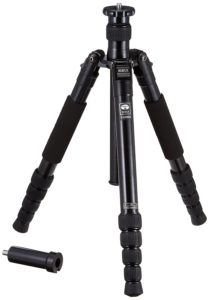 Folds smaller than comparably sized tripods with conventional leg designs. These are the features you should know about this Sirui T-2005X:
Ideal tripod for travelers – full-sized, but folds down small. 2. Legs fold up 180° for extra compactness. 3. Grooved center column can be inverted for low angle shots 4. 3 position leg angle for uneven terrain. 5. legs have an automatic leg angle lock mechanism. 6. Free short center column is supplied for low angle or macro shooting. 7. Includes case, padded strap, extra short center column, tools and instruction manual. 8. TX 2 Series has retractable spiked feet for outdoor photography. 9. Max height 49" (1245mm) (without center column). 10. Max height: 60.9" (1566mm) (with both center columns). 11. Weight: 3.1lb (1.4kg). 12. Max Load: 26.4lb (12kg).


Vanguard Alta Pro 263AB 100 Aluminum Tripod Kit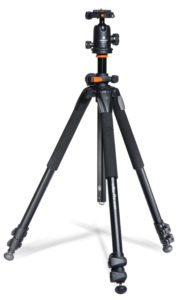 Alta Pro tripods have unmatched flexibility, stability and enabling more angle possibilities than ever before. Its SBH-100 fluid-like ball head rotates 360 degrees and has smooth locking knobs, an outstanding loading capacity and fine-tuning functions. Vanguard Alta Pro 263AB is both taller and larger than the 264AB. Both are virtually identical in weight, and have identical 7.0kg load capacities. If you are of average height you may find you do not need to extend the center column with the 263AB very often, while you will probably need to extend the center column on the shorter 264AB most of the time.
The good things:
– Multi-angle head is the best one in the industry (in my opinion)
– Leg Angle adjusting buttons are best in the industry (in my opinion)
– Lightweight but feels solid
– Goes super low and quite high
– Came with a free bag which is good enough for me
– Price is BETTER than the name brand rivals which aren't as good as this one
The bad thing:
– Haven't found any yet. Seriously.


Dolica AX620B100 62-Inch Proline Tripod and Ball Head

First thing first about this Dolica camera tripod. 62" Aluminum Proline Tripod
Support up to 13.2 lbs
Ballhead, quick release plate and bubble level
Quick release leg locks and non-slip rubber feet


Beschoi Camera Tripod M254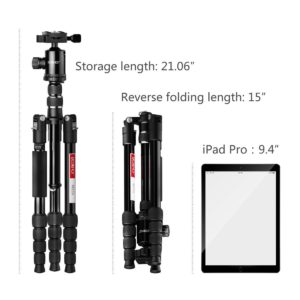 is the standard universal tripod that offers you the elements to take professional photos! What I really like about this German-made Beschoi camera tripod most is that it's lightweight but for heavy duty. Flexible Hook—When hang weight, the hook will stretch out, and retract automatically when take it down. The stand is an amazing stand. The legs are adjustable as the height you need. Made of high quality magnesium aluminum alloy, it's durable and abrasion resistant. The stand is an amazing stand the legs are adjustable as the height you need. You can also attach basicaly anything to the stand with certain attachments. Beschoi is excellent in designing and producing high quality products.


Acuvar 50" Inch Aluminum Camera Tripod
This Acuvar tripod was designed to be compatible with all Apple iPhones, Samsung & most other smartphones. Its size is 50" inch tripod, which is lightweight and compact design. Extends to 50" inches. The minimum height is 15.5". 3 section aluminum alloy legs. The smartphone tripod mount has an easy attachment & padded grip to avoid cellphone damage. Size? 2.5" x 2" x 1" inches with a maximum stretch of 3.4" inches for smartphones.


CamRah Flexible Tripod Pro Series
This small, lightweight camera tripod can hold a Canon 80D with an iPad or a Google Pix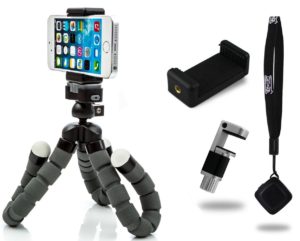 el XL on the top of it. It supports the weight just fine even if you off set the phone in the jaw for fitting cords in smaller spaces. The tripod and remote are both sturdy and efficient. The remote is Bluetooth enabled so if the video camera is Bluetooth they should communicate. The tripod is good for most of the smaller video cameras today. I have a canon camera and it was no problem for the tripod.


iStabilizer Compact Tripod for Smartphones
This iStabilizer tripod is perfect for photography and videography and is compact enough to fit in a backpack or small bag. It's ideal for smartphones (iPhone, Samsung Galaxy, etc.), action cameras (GoPro, Action Cam, etc), and standard digital cameras (any camera with a 1/4" tripod thread). With this iStabilizer tripod, you can easily capture steady video for Facebook live, youtube, periscope, or any other video platform. This is a great tripod. Very stable. The only problem is that it does not fit an iPhone 6s plus with the protective case, so you have to get it out of the case to use it. Obviously, the concern is that the phone might fall and get damaged during this process.


SUNYI Lightweight Tripod
This tripod is compatible with most video cameras, digital cameras, GoPro devices, and smartphones. It's also quite portable and useful, lightweight with a bag and easy to carry around. SweetMemoryStudio.com recommends this for photographers looking for a cheap alternative that will last them a small bit of time, maybe to test out whether they like using a tripod or not.