The Best Headphone Amplifiers
Are you an audiophile looking to maximize the performance of your headphones? A high-quality headphone amplifier can significantly enhance your listening experience. However, with so many models available in the market, it can be challenging to determine which one is the best fit for your needs.
When selecting a headphone amp, it's crucial to consider factors such as sound quality, portability, and price point. Fortunately, we've researched and compiled a list of the best headphone amplifiers that cater to various applications. Whether you're a frequent traveler or prefer to enjoy your music at home, there's an option for you. So, take a look at our selection and choose the headphone amplifier that will take your listening experience to the next level.
A List of Top 10 Best Headphone Amplifiers
Grace Design m900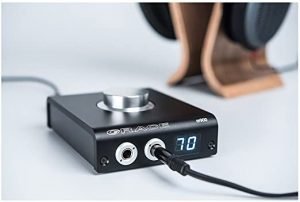 This is a 2-channel headphone amp that can also be used as DAC. Its design is simply awesome for a headphone amp, especially for producers and musicians, as it is flexible for use in a wide range of situations. Also, it can be transported easily, or you can place it on the desktop. In fact, it is a great desktop headphone amp.
Pros
Provides two channels
Multiple power modes
Perfect for desktop use
Cons
Few connectivity features
Low volume boost
ART HeadAmp6 Pro

The ART HeadAmp6 Pro is a headphone amplifier with a rack-mount style and has six auxiliary inputs. An important feature of this amp is its dual function control. Moreover, it offers you a lot of flexibility and freedom, especially when it comes to recording live in the studio with many people who need to hear something different.
Pros
Ideal for studio use
Versatile monitoring modes
Cons
Not portable
Eddie Current Studio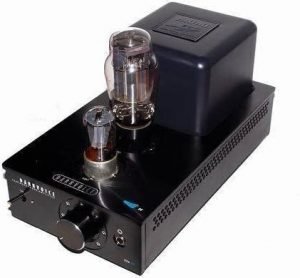 This is a powerful headphone amp that is designed with customizable parts. It is also tested to ensure you get quality sound and delivers a natural yet balanced listening and vivid response. You will find this amplifier great for high-quality headphones. Moreover, it has adequate power to drive speakers and studio monitors without taking away the listening experience of the headphones.
Pros
Provides classic sound
Smaller but powerful
Low distortion
Cons
AC power use only
Does not come with tubes
A bit noise
Schiit Audio Magni 3+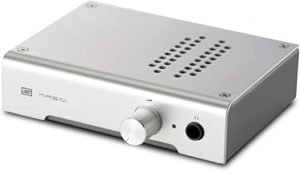 Ideally, this headphone amplifier is an upgrade of their previous headphone amp models: Magni 2 Uber and Magni 2. It has all the features with improved performance but a reasonable price tag. In addition, it features gain switching, automatic preamp output, and it is available at an entry-level price. It provides lower distortion and higher bandwidth.
Pros
Extremely powerful
Great value for money
Flexible enough
Cons
No DAC (digital analog converter)
A bit bulky
FiiO A5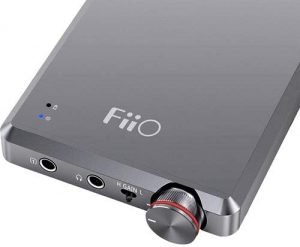 You may find this to be the best portable headphone amp. This is the newest model from FiiO, and it is based on one of the previous models; E12 series. You should note that this amp makes for a low amount of distortion and noise and offers an improved channel balance and pure sound. Also, the cleanliness of power has an effect on audio quality.
Pros
Very portable
Excellent battery life
Smart charging
Sturdy
Cons
No DAC capability
Behringer MicroAmp HA400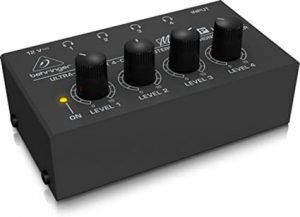 You will find the Behringer MicroAmp HA400 to be the cheapest headphone amp you will come across. In fact, it is one of the true and tried headphone amps on the market. With this unit, you can connect up to four different amps and get the freedom to control the volumes individually. The fact that it uses power stereo amps means it can maintain the sonic quality of the audio.
Pros
Inexpensive
Small enough
Perfect for studio use
Cons
Uses DC power only
Schiit Audio Jotunheim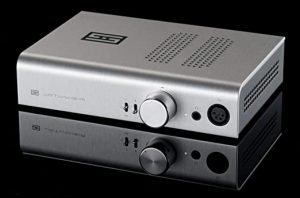 This is another powerful amp that is balanced and made of high-quality hardware and the latest technology. Fortunately, the manufacturer listens to what people need, and that is why they came up with this powerful headphone amplifier. The fact that it is balanced means that it can deliver opposing audio signals. In this way, it offers open-toned quality with more clarity and quicker dynamics.
Pros
Balanced amp output
Very powerful
Different modules such as phono and DAC
Cons
Low frequency range
FiiO BTR5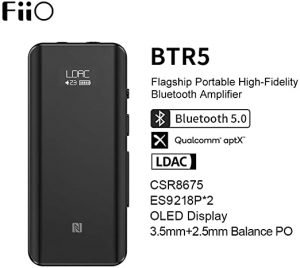 If you want a Bluetooth headphone amplifier, then you should go with BTR5. Ideally, it is compatible with Bluetooth devices such as smart TVs, smartphones, laptops, and more. By connecting your device to this amp, you can achieve high-quality, fidelity sound with low latency. Moreover, it remains portable enough to fit in the pocket.
Pros
Compact design
Bluetooth compatible
Capability to answer phone calls
Cons
Prone to noise and distortion
TASCAM MH-8

This is an audio device that is extremely durable, great-sounding, and reliable. The headphone amplifier provides you with a lot of headphone outputs for use in the studio or live performance. You will find it great for use in a rack but can also fit in the desk if there is adequate space for it. Moreover, its layout is quite simple, with eight output channels.
Pros
Lots of channels
Rack-mount style
Wide response range
Cons
Takes a lot of space
PreSonus HP2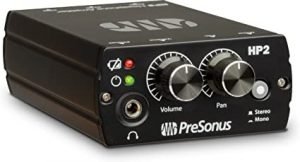 If you are a musician, then there are times you will have to perform live. In such a case, you should get this headphone amp. Therefore, you will find it to be great for playing the piano or guitar, especially when you use the in-ear monitors. Other important features of this amp include a belt clip that attaches it to the pants.
Pros
Ideal for live performances
Sounds transparent and balanced
Comes with belt clip
Cons
Low frequency response