Best Softbox Lighting Kits
Whether you're a YouTuber, streamer, or simply aiming to produce high-quality videos, photos, and recordings, it's crucial to prioritize lighting. Good lighting is one of the fundamental aspects of photography that we learn early on. Regardless of the capabilities of your PC or camera, proper lighting is still essential for capturing stunning photos, creating engaging blogs, or producing captivating videos.
One of the most effective lighting modifiers for reducing hard shadows and creating softer light is the softbox lighting kit. By utilizing a softbox, you can significantly enhance your lighting setup and achieve professional-looking results. However, it's essential to invest in an effective and reliable softbox light to ensure optimal performance.
Having the right softbox lighting kit can make a world of difference in your photography journey. Whether you're a beginner or a professional photographer, the benefits of incorporating a softbox into your lighting setup are substantial. It helps to create softer, more diffused lighting that can flatter your subjects and eliminate harsh shadows, resulting in a more polished and professional aesthetic.
To make the process easier for you, I have compiled some key considerations to help you choose the right softbox lighting kit:
Size and compatibility: Select a softbox that suits the size and specifications of your lighting equipment. Consider the dimensions and the type of mount it uses to ensure seamless integration with your lights or strobes.
Quality and durability: Look for a softbox made from high-quality materials that can withstand regular use. Durability is crucial as it ensures your investment will last longer and continue to deliver consistent results.
Ease of setup: Opt for a softbox lighting kit that is easy to set up and dismantle. A user-friendly design will save you time and effort, allowing you to focus on your creative process.
Versatility: Consider a softbox that offers flexibility in terms of light control. Adjustable features such as diffusers, grids, and baffles allow you to customize and shape the light to suit your specific needs.
Portability: If you often shoot on location or need to travel with your equipment, choose a softbox lighting kit that is portable and lightweight. This will make it more convenient to transport and set up wherever your creative endeavors take you.
By taking these factors into account and conducting thorough research, you can find an effective and reliable softbox lighting kit that will significantly elevate the quality of your photographs, videos, and recordings. Remember, investing in proper lighting is a worthwhile endeavor that will enhance the overall impact and professionalism of your visual content.
A List of Top 5 Best Softbox Lighting Kits
Mountdog softbox best lightening kit ( measures 20"*28)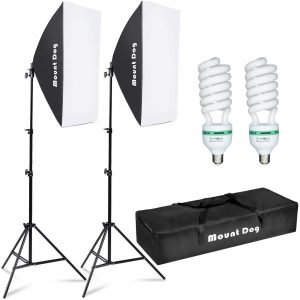 This kit comes with either two or three lights. Besides, every light got either corn bulbs or 95W bulbs. Too, the kit is simple but with all the necessary features. You will love the adjustable stands of this softbox kit, where you can raise them to 27″, 52.5″, and 80″.
Essentially, the Mountdog box is manufactured from durable nylon. And they also feature a stone pattern diffuser and reflector. The diffuser is made from superior –quality PET material. Further, these device bulbs are of high quality, with 95W, which ranges 80 percent energy. The kit also features a vibrant and natural daylight hue, and that is what we exactly require from any softbox lightening kit.
Apart from all these unique features, this box is rotated up to 210 degrees. And this is undoubtedly useful when altering the focus of light. Additionally, the kit is delivered with a carry case, and it easy to carry around.
Pros
(a) Lightweight
(b) It comes with a carry case
(c) Multiple colors/styles available
(d) Set of many sizes accessible
Cons
(a) A bit expensive compared to others related
Raleno softbox lighting kit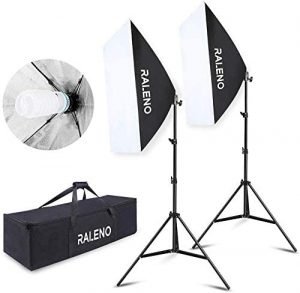 This is the perfect option for especially for beginners who want to adjust their photograph's lighting. This softbox features a heart-resistant with active Nylon reflectors and PET fiber diffuser panels. Further, the kit is very standard and produces high quality. Raleno utilizes CFL bulbs, which offer lighting that improves the video and image quality while shooting.
Essentially, this softbox lightening kit utilizes the scientific technology of the brightest soft light. Meaning the relief stone line will spread the light. This kit is delivered with 2,85W 100V best CFL bulbs, two softboxes, one portable, and two adjustable light stands.
Admirably, the kit is easy to move with it around and also simple to use. Many users have positively rated this softbox lightening kit for its useful features. You can go with it too. It is advisable to invest in the best quality basic softbox kits when starting and build you're photographing from there.
Pro
(a) Energy-saving bulbs
(b) Includes carry case
(c) Flame retardant
Cons
(a) Expensive
YICOE softbox top lightening kit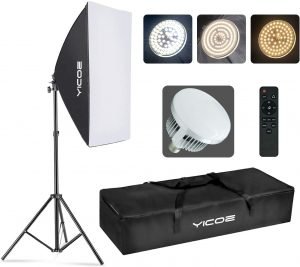 This kit measures 20″*28″. And the kit comes with a 5700 energy-saving light corm for video, filming, model, Youtube, and advertising shooting. Further, the technical abilities of this kit are more advanced compared to other related. Besides, for the individuals looking to produce more than natural lightning, this one will never disappoint you.
In essence, these kit bulbs are easily adjustable. These bulbs can be set into three different and attractive color modes and also dimmed. You will love the modes in this kit, which are warm yellow, white, and warm white. Plus, regular photographers can adjust the lighting to fit people's skin tone and hair color.
Admirably, the color temperature of these kit bulbs is adjustable from 2800k and 5700k. However, the dimming feature allows the user to adjust the favorite brightness from one to 100 percent. Every option in this softbox kit is altered utilizing remote control whether the user is working in front or behind the camera. Too, the boxes are adjustable; you can rotate them up to 210 degrees. Also, the stand is manually adjusted to various heights.
Pros
(a) Affordable
(b) Remote control
(c) Includes carry case
(d) Energy-saving bulbs
(e) Option to change the illumination to three various hues
Cons
(a) No cons yet
Emart softbox lightening kit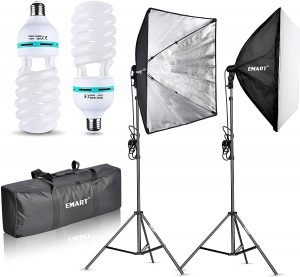 Emart measures 24″*24″ and 1000W. The kit is among the best photo studio system, which comes with an E27 socket for portrait photography shooting, video or youtube, and filming studio lighting. Emart kit is a simple softbox and pretty basic lightning kit recently in the market.
The lights of these kits are more powerful, ranging up to 1000W. Plus, the lights are brighter, smaller, and more direct. However, this softbox lightening kit is perfect when suited for photographing items. Admirably, Smarts light bulbs are robust, bright white, and at the same time energy saving.
This device is perfect for mimicking the natural bright daylight. The box is rotated up to 120 degrees, and that is very standard. The kit also comes with a large carry bag. Additionally, this softbox kit is simple but of superior quality. Every feature included in this softbox kit is useful for you.
Pros
(a) Easy to control off/on a switch
(b) Includes carry bag
(c) Durable
(d) Energy-saving bulbs
Cons
(a) Costly
Neewer softbox lightening kit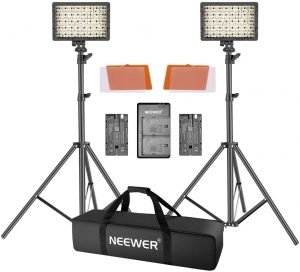 Neewer is manufactured with dimensions of 32inches*12*9. This kit is convenient and affordable for beginners in photographing and video makers. The newer 700W softbox lightening kit is labeled as professional for recording podcasts, advertising products, and vlog sessions.
The kit is delivered with two lightbulbs, one carrying bag, two softboxes, and two light stands. Besides, these softboxes offer balance lighting and defuse the light so that the user can effectively take superior-quality shots. Essentially, the kit uses an E27 socket that allows the user to connect the corms directly to it.
This kit's bulbs range up to 85W 550K CFL and works at low temperatures. This means that these bulbs cannot get as hot as other related bulbs and still offer excellent lighting. The light stands are manufactured from a sturdy and robust aluminum alloy that does not weigh down the stand. Additionally, the kit is lightweight; the setup process is simple and suitable for experienced and beginners.
Pros
(a) Affordable
(b) Lightweight
(c) Energy-saving bulbs
(d) Long-lasting bulbs
(e) Choice of two different and attractive bulbs
Cons
(a) Some users claim that the kit is very cheap