Most Apple Watch owners know that having some additional accessories can make the watch even more wonderful. As stylish and useful as the Apple Watch, it's just a matter of getting the right accessories such as a waterproof case, a tempered glass screen protector, a charging dock, or even a charging cable would make life smarter and better.
The Best Accessories for Apple Watch in 2018
1. Catalyst for 42mm Apple Watch Series 3 & Series 2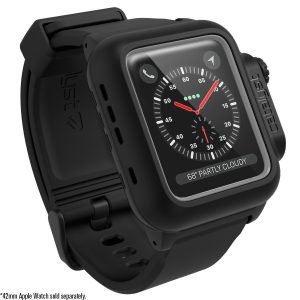 This is one of best cases made for the Apple Watch 3. It's rugged, shock resistant, scratch proof polycarbonate and a light silicone.
A waterproof score of IP68
Allows complete, seamless access and control of all buttons
Resists fresh and salt water
2. BlooPro Clear Tempered Glass Screen Protector for 42mm Apple Watch


I recommend this BlooPro Clear Screen Protector, made from tempered glass, because it will guard your lovely watch's screen against scratches and bumps.
Silicone adhesion
Touch sensitivity
Dry application
3. Apple Magnetic Charging Cable for Apple Watch (3.3′)


An extra charging cable in your backpack is always handy. Keep one at home. Keep one in your backpack. Simple rule.
Fits all Apple Watch sizes and versions
Inductive technology
Magnetically snaps to watch back
Good to Know
If you're a travel photographer, you'll find these must-have accessories very useful, especially when you shoot outdoor or when you're on an adventure or hiking.
As an Apple Watch user and photographer, I always look for the best accessories to expand my smart gadget. With the right gear, the Watch itself will be more capable and a bit more powerful. For instance, after buying a water resistant case, I no longer feel worry about getting wet when enjoy my time at the beach. Swimming while wearing this Apple Watch 3 with the Catalyst case has proven to be a valuable investment.
Disclaimer: All recommendations are impartial and based on user experience, with no bias to the products or the brand. The products in this post contain affiliate links which help support SweetMemoryStudio.com.