Whether you record interviews or filming a YouTube video, having the best external microphones can capture crisp and clear audio. The best on-camera shotgun microphones for cameras should be:
easy to use
adjustable
high quality audio
In this list, you will find the top best camera microphones.
A List of the Best Camera Microphones in 2018
5. Rode VideoMic Pro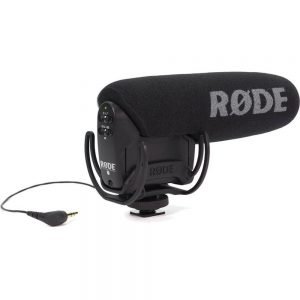 Rode is an excellent and reliable company, considering their history dates back to the year of 1967. The first microphone on this list is the Rode VideoMic Pro. This microphone is connected to the camera via 3.5 mm stereo mini-jack and offers a variety of level and filter controls on the back of the mic.
Pure crystal clear audio
Ultra compact (150 mm long) and lightweight at only 85 grams
9V battery that lasts for over 70 hours of use
Shock mounting and a built-in foam widescreen
4. Nikon ME-1


The next microphone on this list is the Nikon ME-1. With this microphone, you are able to record crystal clear audio and reduce the auto-focus noise of your compatible Nikon camera. The low-cut filter reduces wind noise and other low frequency noise.
Standard 3.5 mm stereo mini-jack
Stunning quality sound
3. Rode smartLav Plus


The next microphone on the list is the Rode smartLav Plus. This is the only lavalier microphone on this list. You gain access to a broadcast quality, professional-grade lavalier mic with TRRS jack. The included foam pop filter will assist with certain bold words stated close to the microphone. This way all of the audio will be all equally recorded and have no major audio spikes when saying specific words.
High-quality omni-directional condenser capsule
Equal distribution and audio pickup
2. Audio-Technica AT8004


Also the best value for the price is the Audio-Technica AT8004. This microphone is the only handheld microphone on my list. This is an omni-directional, high-quality portable dynamic microphone. It's ideal for interviews.
A durable anti-shock housing
1. Sennheiser MKE 400 Shotgun Mic


The final microphone on this list is the Sennheiser MKE 400 Shotgun Mic. This company is most famous for their headphones. However, this microphone deserves special attention. This is a very ultra compact microphone, coming in at only 60 grams.
This mic fits all DSLR cameras equipped with a 3.5 mm stereo mini-jack
A single AAA battery that lasts up to 300 hours
Good to Know
Depending on the camera you have, some cameras can have a decent built in microphone. However, having an external microphone for your camera can be great for many purposes. This concludes the list of the top five best microphones for DSLR cameras. Hopefully, this list was informational and provided you with a variety of products for many budgets. If you're willing to invest in the best camera microphone, I'd recommend that you buy the Rode VideoMic Pro.
Related Reviews: