If you're interested in getting into the world of photography and buying a mirrorless camera, instead of a point and shoot or a DSLR camera, then this is the review for you. The best thing about starting your journey as a photographer with a new mirrorless camera is that it's much lighter, more compact, faster and better for both photo and video. Of course, a mirrorless can't completely beat the DSLR cameras, which have the advantage in lens selection and an optical viewfinder that works better in low light. We won't go into details about Mirrorless vs DSLR cameras here. But the DSLR cameras are more complex and bulkier or bigger, which you don't normally carry around with you most of the time.
What's a mirrorless camera?
For starters, mirrorless cameras usually have a compact, rectangular body; some are styled like DSLRs with a 'pentaprism' on the top. Not all mirrorless cameras come with viewfinders, especially those cheaper ones. What you should know is that a mirrorless is also a stunning camera more than good enough for enthusiast photographers.
At Sweet Memory Studio, we spent some good amount of time to research into the best mirrorless cameras for you.
Olympus OM-D E-M10 II
The best mirrorless camera for your money
Review website like Digital Photography Review (DPR) wrote in its review that Olympus OM-D E-M10 II is the 'Bang for the Buck'. Why? Let's take a close look into its feature first.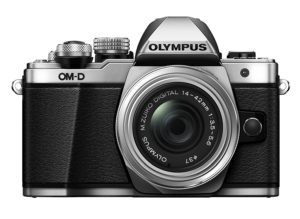 Key Features
16MP Four Thirds Live MOS sensor
TruePic VII processor
5-axis image stabilization
2.36M-dot OLED EVF
Tilting 3″ touchscreen LCD
1080/60p video
4K time-lapse mode
Wi-Fi
First of all, you must know is that this Olympus model is a major upgrade of the E-M10. The best thing about this mirrorless Olympus camera is its. On Amazon.com, Olympus OM-D E-M10 Mark II Mirrorless Digital Camera with 14-42mm EZ Lens (Silver) is priced at about $689.00.

The best things about Olympus OM-D E-M10 Mark II
Best-in-class 5-axis Image Stabilization
OLED Electronic Viewfinder
F.A.S.T. Touch AutoFocus
8.5fps Burst Shooting
A Lens for Every Situation
OM-D Movie
Built-In Flash
The bad things about Olympus OM-D E-M10 Mark II
Menus can be overwhelming
Simplistic Auto ISO feature
Struggles to maintain focus on moving subjects
Average video quality and feature set
No 4K video
Sony a5100 16-50mm
The best of Sony a5100 is its 179 phase-detect points for wider coverage. What makes Sony a5100 the best mirrorless camera for new users because it's just capable of taking great photos. And it's recently priced about $500. But it offers you superior photo quality, which is what most beginners want. This Sony a5100 is a lightweight camera. However, this model delivers 24.3MP of detail even in low light. We highly recommend that you also buy a fixed lens with a large aperture this will get you that blurred background pictures that everyone loves. A 50mm or the Sigma 60mm will be good choices to come along with Sony a5100.  What's new from Sony? Of course, Sony also has the newer Alpha a6000 Mirrorless Digital Camera, which can capture best photos in high resolution and in low light with the 24MP APS-C sensor and two lenses.

Panasonic Lumix GX850
In photography community, Lumix by Panasonic is very well known for its quality. The Lumix GX850 is no exception. This Panasonic compact mirrorless camera is perfect for those who love taking selfie pictures.
What you must like about Lumix GX850:
16MP Live MOS Sensor
UHD 4K Video Recording
4K Photo Modes
Depth-From-Defocus AF Technology
Body Design and Built-In Wi-Fi

Samsung NX1
What sets Samsung NX1 apart from its competitors is the 28MP CMOS sensor. Interestingly, this NX1 model runs Google's Android operating system. In addition to this, most aspiring photographers must love its hybrid AF system with 205 phase-detect points covering 90% of the frame. The 15 fps burst shooting with continuous autofocus won't disappoint you even for a bit. Also, you can capture 4K (DCI 4K & UHD) video using H.265 codec.