Top Best XQD Cards
What's the fastest memory card in the world? The XQD vs. CFExpress card. An XQD memory card features a superior robustness design with five times higher drop resistance and 2.5 times higher in resisting bend. Chance is that you need to have at least a few memory cards in your backpack. A top rated XQD card is ideal for the best mirrorless camera for most photographers. With its speed up to 400MB/s, no other memory cards can beat the XQD memory technology. The card is much faster than using my Wifi network or SD cards, not just for taking pics on burst mode, but downloading them too. In this list, you'll find our recommendations of top best XQD cards to buy.
Looking for the best SD cards to shoot 4K video?
CFexpress vs XQD
Presently, the CFexpress card can deliver greater speeds over current-generation media, such as XQD or SD cards. For a SanDisk CFexpress memory card, the read speed is up to 1700 MB/s and the write speed is 1200 MB/s or over over 3 times faster than the XQD (with same design). Professional photographers and film-makers who need speed for full 4K video capabilities and the excessive data throughput, the CFexpress is the best option now.
Why an XQD card is so expensive? Well, it's because this type of memory card is designed to be the fastest (you can capture 14FPS of RAW, sustained for 140 frames). It's always faster than the SD and CF cards. Another reason is that there are yet a limited number of makers.
The top best XQD memory card is ideal for sports, wildlife and action photographers. Nikon's own DSLR cameras that use XQD cards are: Nikon D4, Nikon D4s, Nikon D5, Nikon D850 and Nikon D500. So far, Nikon has taken advantages of the XQD's PCI Express.
For those who have been wondering if an XQD card is better than an SD card, I tested this by transferring 786 files from my XQD memory card. Each file is about about 100Mb each, from my XQD card, while also copying a similar number from my laptop, which in the same time frame has managed to transfer a whopping 67 files. Sony designed the QXD to replace CompactFlash memory card. It's very reliable to use in every photography setting.
In the market, you can only find an XQD cards from Sony and Lexar/Delkin. The card is more expensive, but it's worth it.
A List of Top Best XQD Cards
Sony XQD G Series Memory Card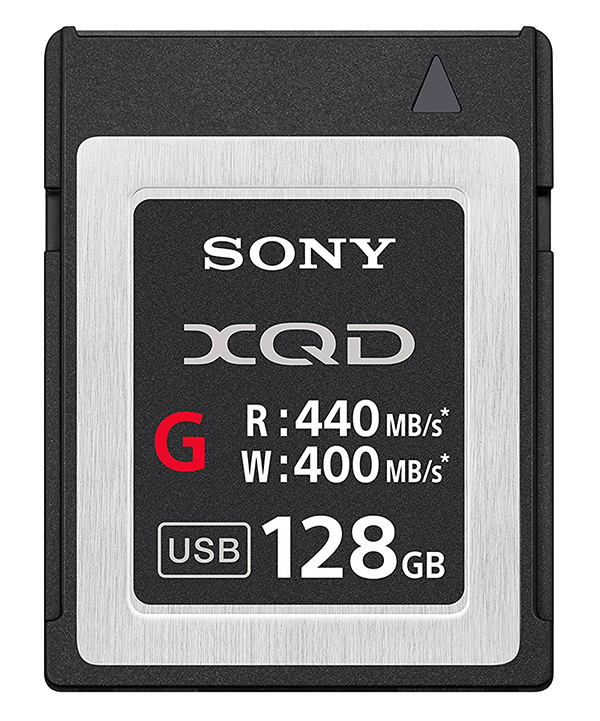 This is the fastest XQD card for professional photographers who need speed. The Sony memory is card is the best for recording 4K video and up to 200 continuous raw still image bursts. After the Sony XQD card with my Nikon D850 9 fps, I can tell that I didn't see any buffering during a 5 second test. This is amazing. Overall, the price is worthy every dollar.
The Sony professional G series XQD memory card features an increased performance rate for burst shooting. Additionally, it is perfect for a continuous raw burst shooting with high-end DSLRs hence allows you to capture up to 200 RAW images.
For a more excellent performance, the Sony professional XQD memory card supports both the PCI express 2nd generation interface and a USB 3.0 with super speed. Furthermore, you can easily connect it to your PC. The most favorite among professional photographers, XQD G Series Memory Card has been the best card for a DSLR camera like the Nikon D850. It's much faster than a SanDisk UHS-II SDXC card. For those who shoot 4K and RAW files, it's better to get the maximum capacity, 256GB. I also recommend this Sony XQD card for use with the Nikon Z7 mirrorless camera.
When lost or damaged, the Sony professional XQD memory features file rescue software that helps in recovering all of your photos and videos.
When it comes to data transfers, the Sony XQD or SD card reader and USB adapter are the finest match for XQD G series cards. Likewise, they help in reducing backup data time for a tremendous efficient workflow.
The Sony professional XQD memory card is often reliable and safe since it capable of withstanding extreme conditions. Nonetheless, it features Sony's intelligent controller, which helps in correcting error code as well as refreshing data functions.
The Sony professional XQD memory card is durable since it features a unique technology that increases shell strength. It also features recessed contact pins, which helps in protecting the XQD memory card from damage, dust as well as electrostatic shock.
Sony features a unique controller that ensures a stable 4k video recording making this XQD memory card ideal for 4k videos. The availability of the two way communication helps in managing data bottlenecks with a compatible camera.
Recessed pins which protect the XQD memory card from dust, and damage
Increased shell strength helps in providing a strong structure for constant use
Max. Read Speed: 440 MB/s
Max. Write Speed: 400 MB/s
Record high frame 4K videos
Continuous shooting up to 200 RAW images
Lexar 2933x XQD 2.0 Memory Card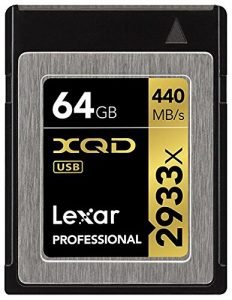 The second best XQD card after the Sony is none other this 2933x card from Lexar. With this card, you can have up to 128GB capacity only. It also comes with a lifetime copy of downloadable Image Rescue software, which is crucial for most photographers. The Lexar XQD card is very fast and reliable, which is ideal for Nikon cameras.
Water/Temp/Shock Resistant
Image Rescue Software
High quality RAW images and 4K video
Delkin Devices 120GB Premium XQD Memory Card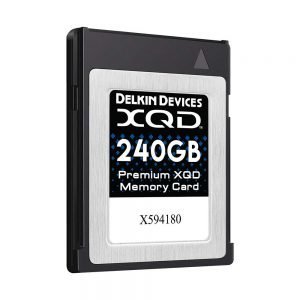 The newest card that's built on of the XQD is CFX. Based CFExpress, the Delkin card is the nex-generation QXD with higher speed and better power consumption. You would be surprised that this Delkin can support continuous burst shooting of up to 200 Raw images without delay. For film makers who look for flawless cinema-quality video capture, then the Delkin XQD is one of the best choices. Also, it's a great choice for vacations as it can store a lot of photograph files (240GB capacity). The Delkin 120GB XQD memory card is capable of recording 4k as well as full HD 1080P videos at very high frame rates and bit rates.
Continuous raw burst ready
Capable of supporting EB streaming
Read and write at speeds of 440 and 400 MB/S respectively
Guaranteed with replacement within 48 hours
Can withstand extreme temperatures
XQD format version 2 compliant
Supports EB streaming
Best Accessories for Mirrorless Camera
Pair your XQD card with the best card readers