Top 10 Best Dehumidifying Dry Cabinets
Humidity, dust, and dirt are the enemy of our invaluable DSLR cameras, lenses and gear. After my own tests and extensive research, I come up with this list of top 10 best dehumidifying dry cabinets you can buy. The best dehumidifying dry cabinets should be:
built-in LED lights
spacious enough for multiple SLRs and lenses
adjustable shelf for flexibility
silent and power efficient
Things to avoid: The longer time the door opened, the higher humidity will be increased.
Humidity creates fungus and corrosion, which is not good for your photography equipment. The effects of humidity in our electronics may be very costly. The ideal solution that will save your cameras and lenses from humidity is investing in a top rated electronic dry box.
As your collection of DSLR cameras and lenses is your life-time investment, get the best dehumidifying dry cabinet to safeguard them. Before buying one of the best electronic dehumidifying cabinets I listed here, one thing for sure to consider is the size. It matters a lot.
You should think of it as a long term investment. Whether it's your first time or not, it's advisable to keep your camera's pieces and other accessories fungus, mold and dust free. The airtight and watertight of the dry cabinet can remove water vapor from the air trapped inside. Therefore, you can rest assured that your photography gears will last longer.
A List of Top 10 Best Dehumidifying Dry Cabinets for Cameras and Lenses
Ruggard Electronic Dry Cabinet 30L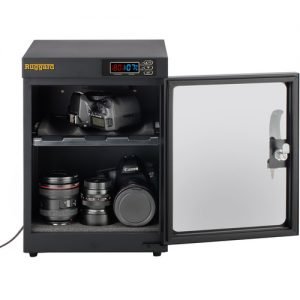 As the leading brand of dry cabinets currently, the design and functionality of this electronically controlled cabinet are incredible. It is spacious enough for DSLR cameras and lenses. It is quiet. You'll also love the beauty of the design, the see-through doors. The dimmable LCD gives users the key information about temperature (in Fahrenheit or Celsius). The Ruggard Electronic Dry Cabinet can regulate the interior's relative humidity from 35-60%. Overall, that's a lot.
Pros
Adjustable shelves
Multi-voltage power input
Interior lighting
No maintenance needed
Forspark Dry Cabinet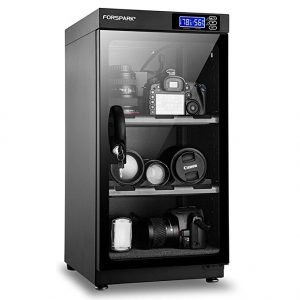 This 50L capacity digital control dry box is one of a kind, bringing new advanced features to the market that allow for storage of more. This is the best storage of anything that is affected by humidity. I like the accurate humidity control (with ±5% differs).
Pros
Protect against not only moisture, mildew, moth, dust, rust, fungus, mold, oxidation, and others
Fast de-humidification
Easy to use
Cons
HFS Digital Dry Cabinet by Hardware Factory Store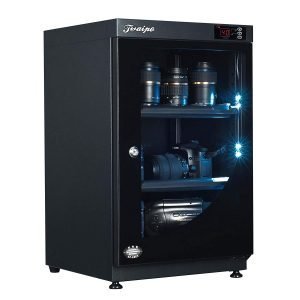 With a 38L capacity, this electronic dry box delivers the results while costing much less than most of the other dry cabinets in its category. It protects against dust and physical damage besides the humidity.
Pros
Silent
LED display
Adjustable shelves
Cons
Instruction on how to use: poor
Foto&Tech Dry Cabinet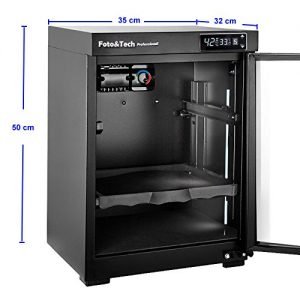 A keener focus on the design is what sets this 50L electronic dry cabinet apart from the others. Its durability is remarkable.
It protects the camera and lenses from humidity and fungus
Energy efficiency
LED lights and the button control panel
Teej Electronic Dry Cabinet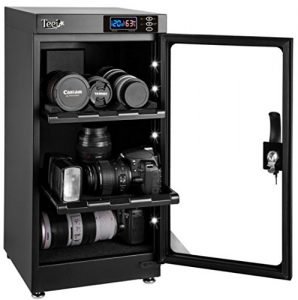 The final cabinet in this group of the best dry cabinets is the 50L capacity Teej dry cabinet whose sole purpose will be to keep your expensive camera free from the effects of humidity.
Adjustable shelves
LED display for the temperature and humidity level
5 humidity level settings
T.A.P 38L Automatic Numerical LED Control Dry Cabinet Box Storage for DSLR Camera Lens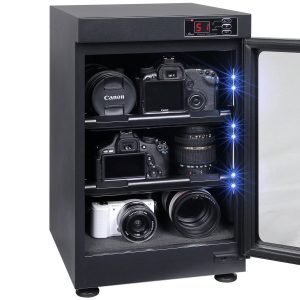 This dehumidifying dry cabinet has a built-in automatic control the humidity, which is essential for most photographers.
Adjustable shelf
Soft LED light of the inner cabinet
Condensation drying system
Automatic control the humidity
Digital display
Adjustable shelf design
Toughened glass door with keys
Soft LED light of the inner cabinet
QuaCity Camera Dehumidifying Dry Cabinet Box with USB Charging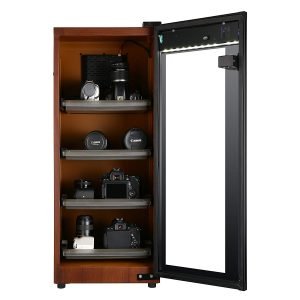 In addition to storing your digital cameras and lenses, you can actually use this cabinet box to keep your paintings, paper money, stamps, old books, leather, antiques, and musical instrument.
Made of high quality steel plate, aluminum alloy frame
Stylish wood-grains surfaces
Humidity Range: 30%-80%RH (±5%)
2 USB charging connector
Touch Key: 2-digital password access
Gate control: controlled gate opening/closing by electromagnetic valve
Power-failure memory: parameters of the product will be automatically memorized when power off
FORSPARK Camera Dehumidifying Dry Cabinet 8W 100L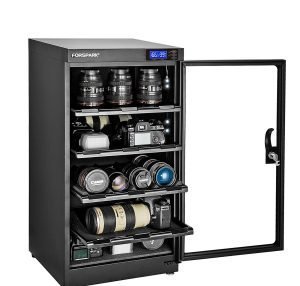 If you want a big dry cabinet to keep as many cameras and lenses as possible, then this Forspark cabinet is the best choice.
Easy to use: accurate humidity control
Adjustable shelves for easy storage
Built-in hygrometer
210L Electronic Automatic Digital Control Dry Box Cabinet Storage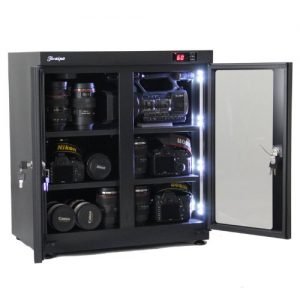 Energy saving, the 210L Electronic Dry Box Cabinet operates quietly. What's more? With two doors, it's easy to use with automation number control. For your first time using this cabinet, you should run more than 8 hours with empty container until the humidity has moved down to lower level. This dry cabinet takes 3 hours at least to reach to the set point when storing a large quantity of items or high moisture in them for first time use. The longer time the door opened, the higher humidity will be increased.
Keep the dry case away from sunlight, high temperature, and heat source
The internal temperature of the digital control humidity dry box cabinet can be monitored but can't be controlled
Noiseless
Large storage with two doors
Energy saving
5 Years Warranty
Patu Dehumidifier Dry Storage Box With Hygrometer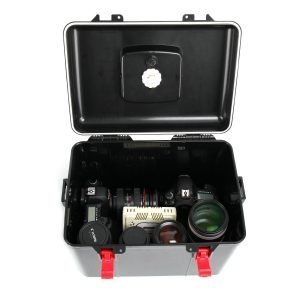 It's simple and functional. With this size, photographers can easily move it whenever needed. Small size? Not really, you can actually store two DSLR camera bodies, 4 lenses, and some other valuable items. This Patu dehumidifier is the top best dry storage box for most travel photographers.
Protect electronics cameras lenses disks or tea paper cigarettes etc
Control humidity easily: Sealed and airtight, built-in a hygrometer and a renewable dehumidifier
23L capacity container can: Accommodate to 2 DSLR cameras and 4 lenses, along with other gadgets.
Extra shockproof storage: Attached a padded organizer case to keep digital gadgets shockproof
Small in size: Easy to clean and move around, portable with the adjustable shoulder belt attached
Cons
Best Portable Photo Studio Kits