Humidity, dust, and dirt are the enemy of our invaluable DSLR cameras, lenses and gear. The effects of humidity in our electronics may be very costly. The ideal solution that will save your cameras and lenses from humidity is investing in the best electronic dry boxes. After my own tests and extensive research, I come up with this list of top selected electronic dry cabinets you can buy.
The best electronic dry cabinets should be:
built-in LED lights
spacious enough for multiple SLRs and lenses
adjustable shelf for flexibility
silent and power efficient
A List of the Best Electronic Dry Cabinets for Photographers in 2018
1. Ruggard Electronic Dry Cabinet 30L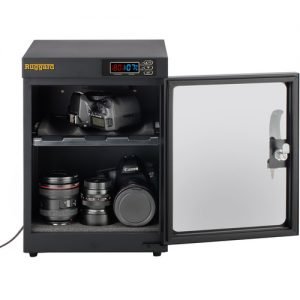 As the leading brand of dry cabinets currently, the design and functionality of this electronically controlled cabinet are incredible. It is spacious enough for DSLR cameras and lenses. It is quiet. You'll also love the beauty of the design, the see-through doors.
Adjustable shelves
Multi-voltage power input
Interior lighting
2. Forspark Dry Cabinet
This 50L capacity digital control dry box is one of a kind, bringing new advanced features to the market that allow for storage of more. This is the best storage of anything that is affected by humidity.
Protect against not only moisture, mildew, moth, dust, rust, fungus, mold, oxidation, and others
fast de-humidification
3. Twaipo HFS Digital Dry Cabinet
With a 38L capacity, this electronic dry box delivers the results while costing much less than most of the other dry cabinets in its category. It protects against dust and physical damage besides the humidity
Silent
LED display
Adjustable shelves
4. Foto&Tech Dry Cabinet
A keener focus on the design is what sets this 50L electronic dry cabinet apart from the others. Its durability is remarkable.
It protects the camera and lenses from humidity and fungus
Energy efficiency
LED lights and the button control panel
5. Teej Electronic Dry Cabinet
The final cabinet in this group of the best dry cabinets is the 50L capacity Teej dry cabinet whose sole purpose will be to keep your expensive camera free from the effects of humidity.
Adjustable shelves
LED display for the temperature and humidity level
5 humidity level settings
Good to Know
As your collection of DSLR cameras and lenses is your life-time investment, get the best electronic dry cabinet to safeguard them.
Related Reviews: