Top 10 Best Sony E-mount Mirrorless Lenses
While Sony has plenty of e-mount lenses, it can be hard to choose the right one. Often times it's just a matter of what you want to take great photographs. This is my list of the best Sony e-mount mirrorless lenses for shooting videography you can buy this year. The additional e-mount lens will allow you to get the best out of your Sony camera. This can be too difficult for most beginner photographers to figure out on their own. Luckily, I compiled what I consider to be the top-rated in the photography community.
Buying Guide: Digital Camera Lenses for Beginners
Designed by Sony for their New E-mount eXperience (NEX), the E-mount supplements Sony's A-mount. This allows the company to manufacture more compact imaging devices while maintaining compatibility with 35mm sensors. The results?
Minimizing mechanical complexity
Shortening the flange focal distance to 18 mm
Reducing the radius of the flange
The Standard E-mount series is ideal for the APS-C and Super-35mm image format. The list above will help you buy the best Sony e-mount mirrorless lenses this year.
A List of Top 10 Best Sony E-mount Mirrorless Lenses for Videographers
Sony E 35mm f/1.8 OSS
The Sony E 35mm f/1.8 OSS is especially good for a beginner. Since it can't zoom in, it makes a better camera for new photographers. That may sound strange, but it's true. It's lack of zoom forces people to really get close to get composed shots. It can really help new photographer build the skills they need to improve. Its wide aperture allows for better pictures in poor lighting.
With its fast shutter, it avoids blurs effortlessly. This is one of the best Sony lenses a beginner can get. If you're just getting into photography, this is the lens for you.
Compact, lightweight fixed F1.8 lens
New optical design for excellent peripheral sharpness and contrast
Built in image stabilization
Silent and smooth high speed focusing
Lens not zoomable
Sony FE 50mm f/1,8
Lightweight, compact, good image quality: all things everyday people want in a lens. While it isn't as good as Sony's more expensive e-mount lenses, it is one of the best you can get on a budget or if you just want a decent lens. It's a well-rounded lens. This may be the kind of lens you'd want to buy if you weren't interested in professional photography.
Large F1.8 maximum aperture
Defocusing effects, 7-blade circular aperture
Compact, lightweight design
Double-gauss configuration suppresses field curvature & distortion
Fast DC motor focus actuator system drives all lens groups
Sony FE 90mm f/2.8 Macro G OSS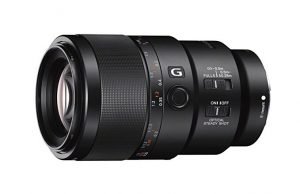 This lens is perfect for close-ups of small objects. The image quality is great, and its focal length and aperture make this one of the best lenses you can get for portraits. It's also much lighter than a lot of lenses this good.
Optical Steady Shot image stabilization
Sharp and good build quality
Sony FE 85mm f/1.4 GMi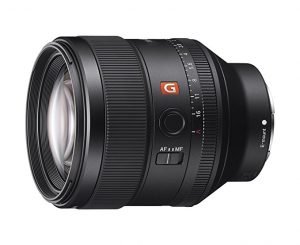 This is one of the best lenses for portraits. With its soft diaphragm, it can make very soft and lovely bokeh that will leave you breathless. It also has internal seals which protect it from moisture. One problem with it is its weight. Most people would want a lighter lens than this. Luckily those are the two biggest problems with it. Overall it is a very good lens.
Dust and moisture resistant for robust reliability
Instant auto/manual focus selection
Sony FE 16-25mm f/2.8 GM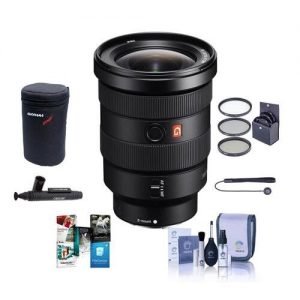 This is quite possibly the best Sony E-mount lens you can buy. It is best suited for landscapes, unlike the Sony FE 85mm f/1.4 GM or the Sony FE 90mm f/2.8 G OSS. While it is hard to beat this e-mount lens, you will want another lens for taking close-ups of people. This lens can make some facial features in the foreground appear quite large. The Sony FE 85mm f/1.4 GM or the Sony FE 90mm f/2.8 G OSS would be better for people and animals.
The lens, however, is good for far shots of people. Aside from that, there isn't much to complain about. The overall image quality for this lens is stunning. Its speed only adds to its appeal. All of this makes it one of the best lenses available today.
Sony 18-135mm F3.5-5.6 OSS APS-C E-mount Zoom Lens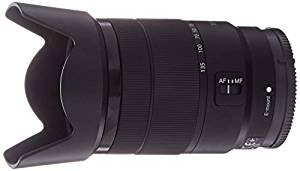 Lightweight and high quality, this is another best Sony e-mount lens for everyday use. For those who love doing street photography and video shooting, you should buy this Sony 18-135mm e-mount zoom lens. Will never regret.
Optical SteadyShot image stabilization
Outstanding sharpness, crystal clear
VILTROX 20mm f1.8 Wide-Angle Fixed/Prime Lens for Sony E-Mount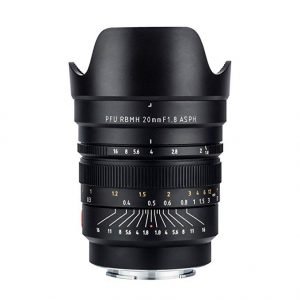 If you want the best wide angle lens for your Sony E-Mount, I highly recommend this Viltrox 20mm. It's one of the best wide-angle lens for most Sony photographers and videographers. Furthermore, it's a more affordable, better alternative to the one from Canon. The Viltrox is great for Canon EOS-M.
Shallow depth and smooth focus
Full metal body structure
Sony E 55-210mm F4.5-6.3 Lens for Sony E-Mount Cameras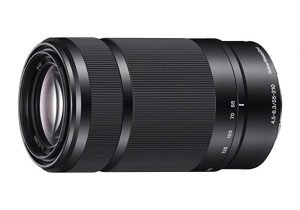 Smooth and quiet operation makes this the best Sony for video shooting. What's else? Overall, it's a good lens for the money. I highly recommend this Sony E 55-210mm to hobbyists and beginners.
Stable video capture and low light performance
Best for sports or nature shooting video capture
Ideal for precise, comfortable manual focus adjustments
Internal focusing for smooth, quiet operation
Sony FE 16-35mm f/2.8 GM (G Master) E-Mount NEX Camera Lens
Very ideal for sports or nature shooting, the Sony FE 16-35mm G Master has to make this list for this obvious reason.
Smooth, responsive AF possible with minimum noise
Perfect for video capture
Best value for the money
Sony 16-50mm f/3.5-5.6 OSS Alpha E-Mount Retractable Zoom Lens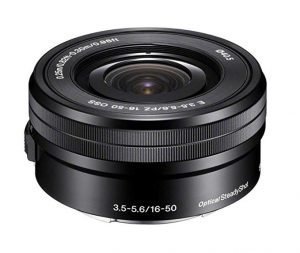 Made in Thailand, this is the best budget E-Mount lens for your Sony camera. This Sony 16-50mm lens is a top recommendation for those who want to capture incredible sharpness especially for 4K videos.
Smooth zooming with superb operability and quietness
Built-in image stabilization
Fast to focus and set exposures accurately
Best Sony DSLR Camera Accessories
Best Nikon Lenses for Travel Photography