Got a Panasonic Lumix camera and looking for good gears? You can enhance your photography by adding accessories. If you are a professional photographer, these are the best accessories for your Panasonic Lumix cameras. Whether you got a Panasonic Lumix G9, a Lumix DC-ZS200, or a Lumix LX100 II, you'll need to add some more good gears for your great camera kits. This is a list of the best Lumix camera accessories you should have.
Also: Best Accessories for Lumix DC-ZS200 Camera
A List of the Best Accessories for Panasonic Lumix Cameras in 2018
1. Panasonic Lumix 128 Gb SD Card (High Speed)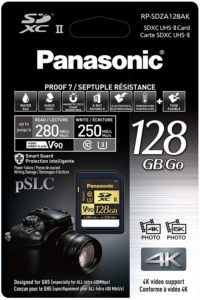 Running out of storage space? This is the worst enemy of any photographer. The Panasonic range of SD cards are designed to work with Lumix cameras.
Data protection feature
Compatible with Lumix models
2. Panasonic Lumix Original Battery Pack


Extra juice when you need it most! Often photos are taken in places where there is limited charging possibilities. Extend your work time by keeping additional original Panasonic batteries on hand. These compact Lithium ion batteries take up the minimum space in your carry bag. Never be caught powerless again!
100% compatible with your Lumix
3. Panasonic Lumix Hybrid Flash System With Video LED


Get the best possible lighting for stunning photos and videos! This external DSLR flash module comes with a built in LED for video filming in low light conditions. The unit uses wireless multi flash grouping technology to ensure perfect timing. Flash charge time of three seconds is great for taking many photos in a short time. Compatible with flash guides on most Lumix cameras.
Supports bounce shooting at zero to ninety degree angles
4. Panasonic Lumix Lens Storage Bag


Protect your valuable lenses from dust and contaminants using this original lens storage bag. Ideal for transporting and storing lenses when they are not being used. Rest assured that your lenses are taken care of and protected!
Soft non-scratching material
Several sizes to accommodate various lenses
5. Lumix Professional 4K Audio / Video Interface Unit


Easily share your creative work in stunning ultra high definition with this interface unit. Using this unit will add another layer of connectivity to your camera enabling you to easily showcase your work on any HDMI television or monitor.
Supports both audio and video sharing
Easy to use and connect to your Lumix
6. Aputure AL-M9 Amaran LED Mini Light on Camera Video Light

For most professionals, having the external flash isn't enough. How about adding this Aputure AL-M9 LED Mini Light? It adjustable brightness is very useful. This little LED light is my new must have next to my GH5. If you're shooting a long interview, you should plug on battery power via USB connectivity.
Built-in Lithium battery
Compact and lightweight
Good to Know
This list of gears and accessories is ideal for Lumix G7, G9, and GH5. This is a review of the best Panasonic Lumix camera accessories that will improve your photography experience. If taking that perfect shot is your passion, then these accessories are definite must have add-ons for your Lumix!
Related Reviews: