Must-Have Photography Essentials for Beginners
Photography is a hobby, an expensive hobby. The first tool that photography is needed is the DSLR camera which is quite costly. In this hobby's management, there is some gear to enhance your skills in photography.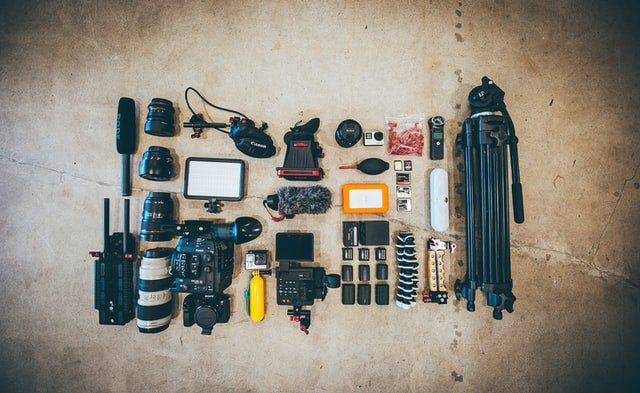 If you are starting in photography, you must know the essentials a photographer must have to start the job and earn money to buy the additional gears that will make your work easier. As a photographer, the more innovative way is to invest in equipment that will make your life easier, and your taken photos are effortlessly beautiful.
So, the following are the essential camera equipment that a photographer must have:
Camera Tripod
Its versatility what makes it essential in photography. In various shooting you need, including landscape, portrait, wedding photography, etc. tripod is necessary at some point or another. It is incredibly beneficial in any event you have, especially in low-light settings, since camera tripods have stability in taking shots, which will make your work effortless. Besides, it will allow you to take long exposure shots with no shaking of the camera. What's a nice thing as well is its portability, in which it is suitable for this hobby for you can bring it anywhere you are.
Remote Shutter Release
It is also essential because you can take a shot without touching the camera's body physically, resulting in eliminating a potential camera blurring and shaking. Besides, there are two types of shutter, wireless and wired. It depends on you if which one you use. It also has excellent features, including the LCD screens, half-press support, and built-in timers. Additionally, you can buy a remote to be compatible with various camera brands.
Best DSLR Camera Wireless Remote Controls
Prime Lens
In advanced photography skills, a prime lens will be beneficial for you to take all kinds of shots. Even if you are at a starting point in that hobby, you still need a single prime lens, as long as you have. The prime lens does not zoom and what is good about it is the inability to zoom will teach you as a photographer about the techniques in proper composition. It will help you improve your skill and stretch your skills faster. There are numerous brands now that have high-quality at a very reasonable price.
Lens Filters
It is commonly compared to sunglasses. It serves as the sunglasses of your camera's lens. The lens filter kit is essential because it can make the photographer's skills easier. It is beneficial since it enhances the quality of the images and protects your camera's lens from possible damage. Besides, there are three kinds of filters, and it is up to you which one you will specialize in.
External Flash (Speed Light)
Flash is an essential factor in the shooting, especially if there is low light or dark place. Although there is a built-in or internal flash on the camera's body, it is not enough to capture a good quality photo. Instead, spend an external flash, and it will be worth the improvement and effort of your photography skills.
Best Budget Flashes for Canon Cameras
Reflectors
It is essential, and it is the most common equipment that photographers bring. A light reflector is beneficial for good natural lighting. It reflects the natural light during the daytime. Customers have various plans and like, so it is essential to have this since customers have many demands that you as a photographer must compromise.
AA Batteries and Battery Charger
A lengthy photoshoot is inevitable, which is time-consuming. By that, your DSLR camera will consume your battery, so the solution to that is to get rechargeable batteries that when you take a break, you can make time to charge your battery and use it again in a full charge. A camera battery is one of the essentials that a photographer must since it is part of the camera's body. Without it, your camera would be useless, resulting in your clients will be disappointed.
SD Memory Cards
In photography, when taking a shot, it indeed has numerous shots because you must get the right angle and the best photo and also for your clients to choose as many as they can. If you do not have extra SD memory cards, the other SD cards may get corrupted. So, it is essential to have an extra one in case of any issues like this. There is no wrong with being prepared and innovative.
A memory card is a critical part in photography. It's hard to travel with your camera without a reliable memory card. For many years, camera memory cards continue to evolve in form factors, storage capacity, reliability, and speed. And there are many types compatible with digital cameras.
Presently, SDXC cards are popular and compatible with most cameras.
However, old generation CompactFlash cards are handy and rugged for mission critical photography.
Designed for high resolution digital cameras, XQD memory card uses PCI Express as a data transfer interface. Its benefits are two things: super fast read/write speeds and high capacity storage limit. It's probably the future.
Based on the Serial ATA (SATA) interface, CFast card is ideal for higher data-transfer speeds–about 375MB/sec.
Camera Cleaning Kit
The camera is the essential tool you must acquire in entering the world of photography. For you to avoid camera damage, proper maintenance or cleaning must take place. Dirt like dust and moisture can get into your camera's lenses and other accessories, which the worst of all, your camera will put into permanent damage. Prevention is better than cure. It is costly if your camera is already damaged rather than the camera cleaning kits, which will benefit your camera and other equipment.
Camera Strap
The camera must have a strong or branded strap to avoid accidentally falling into the ground. It is one of the essential accessories that prevents your camera from damage or defect. Besides, good camera straps should be comfortable, durable, and adjustable since it is commonly placed around the neck.
Camera Bag
Camera's are mobilized. You can bring it anywhere to your clients' chosen venues. Part of your camera's safety is providing a trustworthy camera bag, not as long as there is a bag, but it should be convenient. All accessories related to your camera's safety are essential because of no camera, no photos, and no photos, no job.
Best Rolling Camera Bags for Airline
Best Waterproof Camera Bags for Kayaking
Cable Organizer
Photography's accessories have so many cables, and cables are inevitably tangled together, making your work stress. To figure out what solution might be done to manage your cables. Thus, the cable organizer is the solution that is also considered essentials in photography. It is also a good impression for your clients to see a photographer having organized equipment.
Photo Editing Software
Photographers must attain the skill of editing. They must be versatile. Part of being brilliant and creative is to find the most efficient programs that will assist you with the desired outcomes you wanted to achieve. Thus, search for top-rated programs for editing.
Best Video Editing Software for YouTube
Resources:
SDXC, CFast, XQD, CFexpress – which media card is best?
Top Memory Cards for Photo and Video Recording